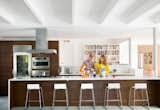 Design Your Home With Dwell Photos
Now you can browse the best photos on
Dwell.com
from our bloggers, magazine and community of users.
We built Dwell.com/photos to make it easy to filter through the best modern home design photos. If you are planning on building or remodeling a home, this image resource is for you.
Go to Dwell.com/photos to get started. Or browse through the links below.
Calling architects and designers! Want to see your photos in Dwell Photos? Here's what you need to know:
Add your home project to Dwell by clicking "Add Home" at the top of this page. Make sure to tag your photos -- but only with relevant tags -- don't got tag crazy. Next, Dwell curates the best photos to appear in Dwell Photos.

Get the Dwell Newsletter
Be the first to see our latest home tours, design news, and more.