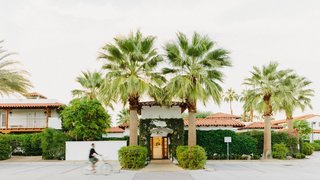 9 Palm Springs Retreats For Under $200 a Night
Whether you're visiting Palm Springs Modernism Week from February 14-24 or just in the mood for a desert vacation, these hotels offer stylish stays at friendly prices.
The desert oasis is home to some truly incredible architectural and natural marvels. To help you experience the magic of Palm Springs modernism without going over budget, we've rounded up a few of our favorite colorful, comfortable, and visually striking hotels that are the perfect getaways all year long.
A stay at The Saguaro Hotel is like entering a new, technicolor dimension. Centered around a sizable pool, the guest rooms feature handcrafted Mexican furniture in eye-popping hues. Architects Peter Stamberg and Paul Aferiat were inspired by Palm Springs' indigenous desert flowers.
Hope Springs celebrates the geothermal waters found in Palm Springs and Desert Hot Springs, located 20 minutes outside the city—as well as updates the modernist aesthetic of the roadside motel. After renovations, the 10-room retreat offers a more intimate resort experience.
Built in 1947, the Del Marcos Hotel was architect William Francis Cody's first independent commission, and a project that launched his career as one of the most influential desert modern architects. Located close to Downtown Palm Springs, in the historic Tennis Club neighborhood, the hotel's 17 rooms are furnished with midcentury modern furniture, and decor that complement's the building's cheerful facade.
Groovy, hedonistic, luxury—Jonathan Adler's depiction of his design at the Parker is not how you'd describe a typical getaway in the mid-mod hotbed of Palm Springs. Yet then again, a stay at this hotel is anything but typical. The 144-room hotel has assumed many identities since it was built in 1959. Originally, this iconic structure began as California's first Holiday Inn. It later served as spring training housing for the Los Angeles Angels baseball team, as well as Merv Griffin's Resort Hotel and Givenchy Spa. Then, nearly 50 years later, acclaimed designer Jonathan Adler got his chance at reinventing the hotel's interior. And he did it again in 2017—this time cranking up the Hollywood glam.
ARRIVE is a 32-room boutique hotel located in the Uptown Design District of Palm Springs. With a striking, landmark design that honors Palm Springs' rich modernist legacy, ARRIVE immerses visitors and locals in the style, tastes, and lifestyle that define this desert playground. The uniquely furnished hotel rooms, 16 of which feature private patios with fireplaces, are filled with natural light from clerestory windows that offer stunning mountain views. The large central pool area boasts private cabanas, a bocce court and games area, communal fire pits, and an oversize spa.
Renovated by designer Martyn Lawrence Bullard, this 46-room boutique hotel references its midcentury roots with an infusion of Moroccan elements, including a spa, pool, and cabanas and a Mediterranean-inspired restaurant.
Situated in the heart of Palm Springs and tucked against the San Jacinto Mountains, this dazzling desert retreat is steps from the vibrant local art, dining, and boutique shopping scene. The 153 soothing, spacious guest rooms and suites offer a restorative retreat after heart-thumping adventures on rugged trails or in the lively nightlife scenes. At the rooftop pool and bar, pair brilliant sunsets with masterful cocktails. Dine at one of the hotel's two chef-driven restaurants featuring seasonal, shareable small plates made from fresh, local ingredients. From vista points like the refreshing rooftop deck or the two-story cinematic window in the lobby, every view is stunning and unsurpassed.
Palm Springs native Tara Lazar and her partner Marco Rossetti are the hoteliers behind this property, which is located near their restaurant and local institution Cheeky's.
Set against the backdrop of the dry desert hills, the Ace's white buildings are an unpretentious makeover of an existing, rundown roadside motel. The rooms sit around a central common space with two pools and an event hall, and in a former Denny's on the corner of the property are King's Highway and The Amigo Room, the hotel's restaurant and bar. The rooms, which range in price from $109 for a Simple King to $999 for the Ace Suite, could be characterized as Bedouin tent meets skater chic, curated by the world's best flea market scavenger. The Ace Palm Springs was designed through a collaboration between LA–based company called Commune and the Ace's own design team, Atelier Ace. They approached the project as a curatorial endeavor, commissioning a number of artists and artisans from southern California and the Southwest to piece together the design elements.
Shop Desert Modern Essentials
Get the Dwell Travel Newsletter
Start exploring far-flung design destinations, the newest boutique hotels, and well-designed bars and restaurants perfect for the modern jetsetter.