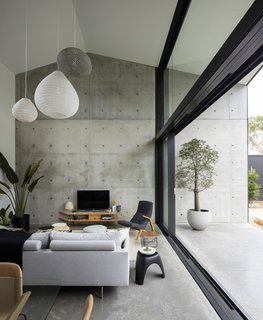 View Photos
Top 5 Homes of the Week That Champion Concrete Design
These modern concrete homes rock their features with elegance. Take a peek at our editor's favorite homes from the Dwell community that fully embrace the industrial material.
Featured homes were submitted by members of the Dwell community through our Add a Home feature. Add your home to Dwell.com/homes today.

Architect: Christopher Polly Architect, Location: Woolooware, New South Wales, Australia
From the architect: "A northern blade screen and a pinched-in rear profile enable greater solar access onto the generous thermal mass of a concrete wall and ground floor slab, with a cantilevered terrace edge and sculpted step element doubling as seats for enjoyment of the garden."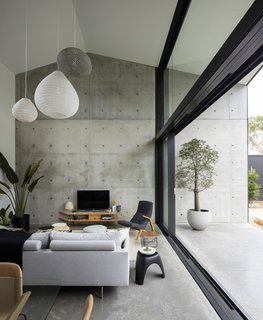 Newsletter
Join the Daily Dose Newsletter
Get carefully curated content filled with inspiring homes from around the world, innovative new products, and the best in modern design
Architect: MD Rafiq Azam of SHATOTTO Architecture For Green Living, Location: Dhaka, Bangladesh
From the architect: "From the green lawn of the ground floor to the green roof garden, the building opens up to the outside greens thus creating a beautiful, timeless union between the nature and architecture. Taking the advantage of 150-foot height limitation, the architect reorganized the skyline and deconstructed the spaces by generating duplex, triplex, and rooftop gym and gardens. The ceiling punch of the roof garden not only allows light inside and gives the users a sense of openness, but also reduces the load of the skyline as an earthquake security measure. The idea was simple—to design the building like a social sculpture, grounded on an appropriate city landscape."
Architect: Dellekamp Arquitectos, Location: Mexico City, Mexico
From the architect: "This weekend house is created by uniting volumes to make an L-shape with a covered roof. Patios are inserted into the longest volume, preserving pre-exiting trees on site and allowing vegetation to take over the project. In these ways, the house interweaves vegetation and explores the patio typology."
Architect: Alain Carle Architecte, Location: Cornwall, Ontario, Canada
From the architect: "As an analogy to the transformation of landscape by humans, the project also introduces temporality: permanent components of the house alternate with more ephemeral ones. The outskirt of the house is delineated by permanent boundaries in concrete (linked to the legal occupation of the site), while the house itself could have more flexible or ephemeral construct in metal."
Architect: Kevan Hoertdoerfer Architects, Location: Charleston, South Carolina
From the architect: "The single-family residence built in Wagener Terrace close to Hampton Park in Charleston, South Carolina, was originally a squat-exposed, cinder-block duplex from the 1950s that saw little modification over the years. The transformation that ensued saw the full spectrum of responses about the design and construction, from excitement and wonder to shock and disdain."
Want a chance to be featured? Add your home here!