View Photos
A Rare Richard Neutra Home Is Listed For $2.2M in San Francisco
Neutra's 1937 wood-sheathed home formally known as Darling House hits the market for the first time in San Francisco.
There is no doubt that iconic architect Richard Neutra, who immigrated to the United States from Austria and worked alongside Frank Lloyd Wright in his early career, is widely celebrated for his contributions to the Modern Movement in the United States.
While he is best known for his prolific body of work in Southern California, there are still four surviving Neutra–designed projects in the Bay Area. His acclaimed 1937 Darling House is one of them, and it has recently become available for the first time on the open market for $2,200,000.
Newsletter
Join the Real Estate Newsletter
Get carefully curated content filled with inspiring homes from around the world, innovative new products, and the best in modern design
Sited on a steep slope in San Francisco's Parnassus Heights, the home Neutra designed for Dr. Darling and his family is a historically poignant example of both International Style and Second Bay Tradition influences.
Located on Woodland Avenue bordering the densely wooded Sutro Forest, the dwelling features three bedrooms and one-and-a-half baths spread over two finished living levels. Other than a garage that was converted to a secondary living room in the 1970s, the home largely remains in original, unaltered condition.
The living room conversion was done by local artist Peter Tangen, who is best known for designing the main doors to North Beach's landmark Old Spaghetti Factory. "Despite being at almost the geographical center of the city and having two walls of windows, when you are in the home, you have views of greenery and distant views of downtown and other homes," says Peter Pelavin, who grew up in the property after his parents purchased it in the 1950s.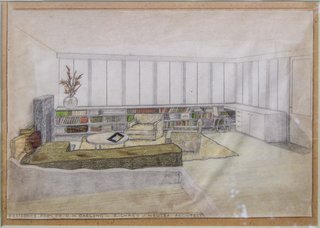 Richard Neutra's work and legacy has been carried on by his son, Dion Neutra, architect and principal of Dion Neutra Inc. The firm is the successor to Richard and Dion Neutra and Associates, which executed the Neutra vision for decades. Dion Neutra has expressed interest in working with the buyers of the Darling House to help responsibly restore this architectural icon so that it may be celebrated and preserved for generations to come.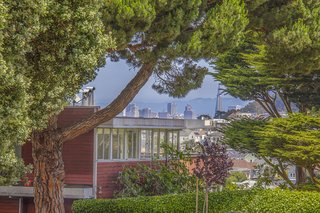 90 Woodland Avenue has been listed for $2,200,000 by Mary Edwards and Linda Gridley of Coldwell Banker, and the full listing can be seen here. While the sale is currently pending, interested buyers are encouraged to keep an eye on the property in case there are opportunities for backup offers.
Know of a home for sale or rent that should be featured on Dwell.com? Drop us a line at community@dwell.com.
Stay Here in San Francisco