Ranging from the dramatic to the understated and modest, these 10 homes use suspension to thrilling effect.
Cantilevered architecture, pioneered by architect Frank Lloyd Wright (who famously used it in Fallingwater), is evocative both for its surprising form and its cleverness—it is, after all, creating livable space out of thin air. Take a tour of some of our favorite examples below.
According to _naturehumaine, the firm that designed this sculptural vacation home on a steep slope in an Eastern Quebec forest, the goal of the project was "a country house in perfect symbiosis with its natural environment."
Newsletter
Join the Daily Dose Newsletter
Get carefully curated content filled with inspiring homes from around the world, innovative new products, and the best in modern design
This gleaming, stainless steel-clad "barn" designed by MVRDV and Mole Architects balances on a Suffolk slope, projecting 18 meters out and five meters off the ground.
For this zinc-clad artist's studio nestled into the western coast of Scotland, the London-based firm Studio Weave opted to position the small building so it "floated" over a stream, then designed a "light soffit" to optimize the view.
In this 2015 home from Bourgeois/Lechasseur Architects, the upper level of the South-facing facade juts over the lower level—all the better to let the living room hover among the surrounding trees and connect with stunning water vistas.
The idea behind these cantilevered glass cabins (that you can rent!) was to create an immersive experience that brings visitors up close and personal with the beautiful setting of Manshausen Island in Norway. "The conceptual idea was to expose visitors to the outside elements, while at the same time providing a comfortable shelter," says architect Snorre Stinessen.
Architects Elihu Siegman and Michael Silverman of Siegman Associates were inspired by the first letter of the Hebrew alphabet—Aleph—when they created this house on a slope in Asheville, North Carolina, complete with a modest cantilever from the second floor.
Two precipitous lots in Los Angeles' Mount Washington neighborhood left Anonymous Architects with little build-able area: about 600 square feet each, in fact, for these side-by-side residences. So they cleverly stacked each building's two stories atop concrete pile foundations and added bay windows to extend the envelope.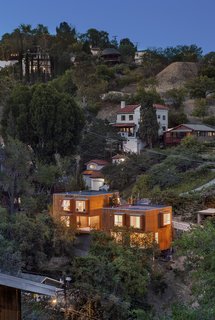 For the design of this prefab house in the remote Washington wilderness from Anderson Anderson Architecture, a steel frame rests atop a concrete foundation bolted to an existing rock. "That rock is really what allowed this to be such a unique house," says Peter Anderson. "It's what allowed us to cantilever the whole structure and take advantage of the site, pointing the house directly at the waterfalls, which are incredible."
Framework Architecture sited this cantilevered cabin on a rock outcropping in the Berkshires over a 20-foot drop, effectively creating an immersive treehouse effect. Per their website: " No matter where you are in the house, you can see a tree nearby."
Adrian James Architects utilized a modest cantilever over a concrete wall for this Oxford home in order to create an eye-catching entrance.