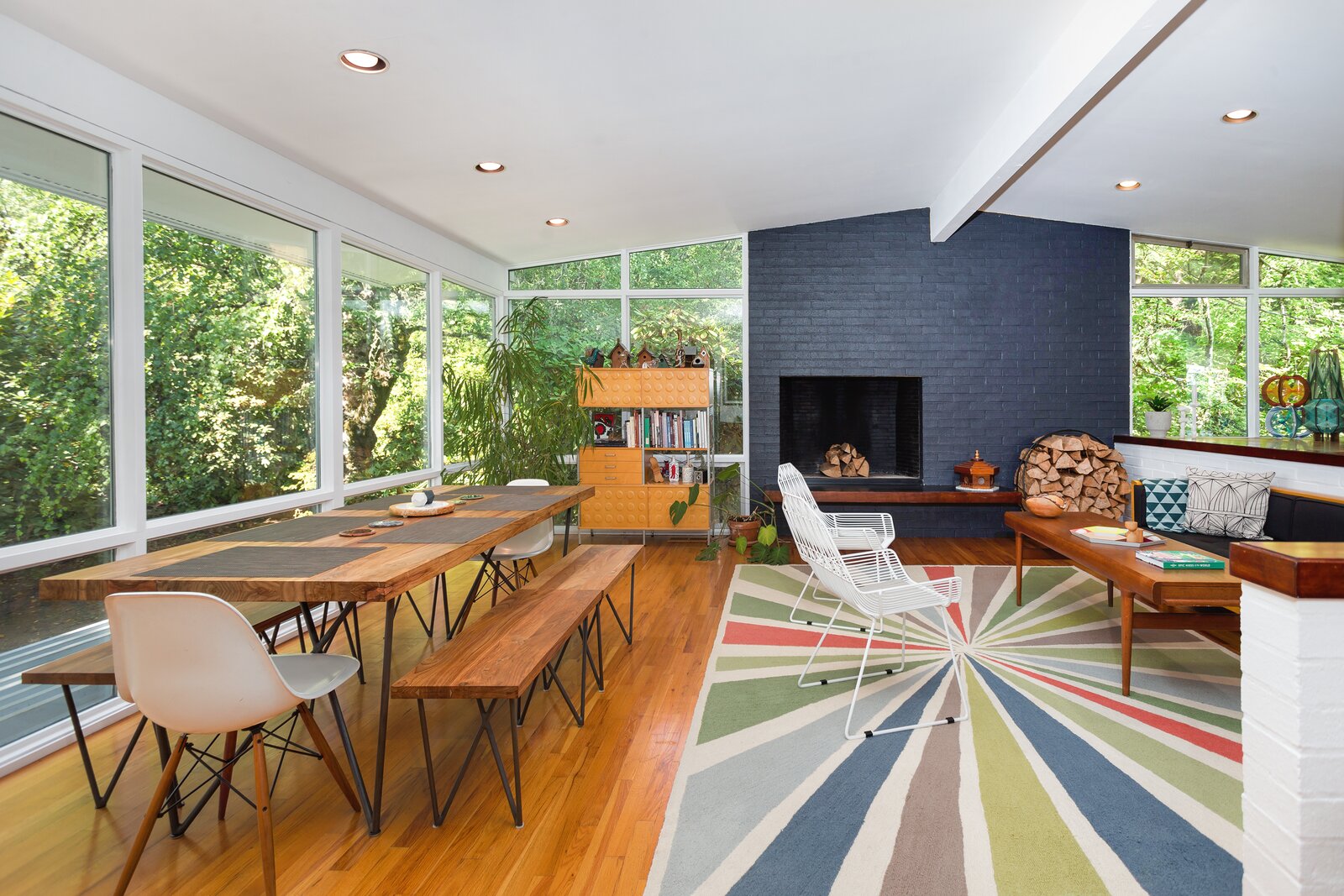 A Portland Midcentury by Frank Shell Offers Laid-Back Living for $1M
Architect Frank Shell only designed a handful of homes—and they're all keepers. Here's a rare opportunity to snap one up.
Nestled on a large, tree-lined lot in the Cedar Mill neighborhood of Portland, this classic Frank Shell–designed home captures the architect's approach to Pacific Northwest modernism. Shell trained in Washington state before moving to Portland in 1949 to launch an architecture firm alongside Jonathon Farnham and Charles Hoyt.

The architect primarily focused on schools and churches, and he completed just a few residences before his death in 2006. Those that remain are considered iconic examples of Pacific Northwest modernism, and they've popped up on architecture tours and in magazine photo shoots.
This house was originally built in 1960 for a doctor, and it was later expanded in 1975. The 2,902-square-foot home unfolds over two stories, with three bedrooms on the lower level and the main living areas and principal suite on the upper level.
Upstairs, there are two different living rooms, both with original brick fireplaces and cantilevered hearths. Floor-to-ceiling glass panels wrap the rooms, providing tree views and connecting the interior to a generous rooftop patio for dining and lounging.

At the rooftop patio, a vaulted pergola provides cover, and an outdoor fireplace provides a pleasant spot for chillier evenings. The nearby galley kitchen has been updated with simple white cabinetry, a handmade tile backsplash, and quartz counters. The main level also holds a 231-square-foot principle suite, complete with a bonus room connected via large sliding doors.

Walk down the original floating staircase to the lower level, and you'll find three bedrooms, one with original fireplace. Every bedroom benefits from floor-to-ceiling glass and lots of natural light.

From top to bottom, the home preserves the architect's sharp midcentury moves—from the vaulted post-and-beam framework and exaggerated eaves upstairs, to the relaxed floor plan, and original solid fir doors and abundant windows.
Get the Real Estate Newsletter
From midcentury classics to the best contemporary spaces for sale, see the latest listings for modern homes on the market around the world.