Focus on Feldman Architecture's Environmentally-Conscious Homes
Meet the San Francisco architecture firm that is spreading the green gospel through thoughtful, collaborative work that champions sustainable solutions.
Here at Dwell, we're continually impressed by the caliber of work our community shares through Add a Home. In addition to featuring our daily favorite as the Home of the Day, we're shining a spotlight on the extraordinary architects behind the projects.

This week, we're celebrating San Francisco–based Feldman Architecture, led by Jonathan Feldman, Steven Stept, Taisuke Ikegami, and Christopher Kurrle. The award-winning firm holds environmental stewardship in high esteem, creating residential and commercial spaces that sit lightly on the land. Through a respectful, collaborative process with the client, Feldman Architecture produces buildings that meet individual needs while respecting the natural environment. Get to know the firm through the innovative examples below.
Location: San Francisco, California
A whole-house transformation for an active family with three young boys looks like a simple—albeit modern—town house from the street, while boasting an interior that soars. The main floor encompasses the kitchen, dining, and living rooms, allowing the whole family to hang out. A catwalk circles a central, light-filled atrium, connecting the upper floors. At the top, a green roof and office "pod" enjoy broad city views.
Newsletter
Join the Daily Dose Mailing List
Get carefully curated content filled with inspiring homes from around the world, innovative new products, and the best in modern design
Location: Marin County, California
Seeking an escape from the city, photographer Catherine Wagner and designer Loretta Gargan reached out to Feldman Architecture to turn a dark, cramped home into a charming cottage. Conducted in two phases, the renovation opened up the kitchen and living room to an outdoor dining area, added a two-story extension capturing views of Mount Baldy, and introduced a garage with a green roof. Stepped terraces lead to a serene swimming pool.
Location: Carmel Valley, California
In planning their retirement home, David and Suzanne Rinaldo requested a house that had the lightness of "a butterfly landing in a meadow." Located on the Santa Lucia Preserve outside of Carmel, California, their complex boasts three eco-friendly pavilions spread out in a semi-circle. According to the client, Jonathan Feldman spent hours lying on his back in the natural setting, letting the floor plan emerge organically.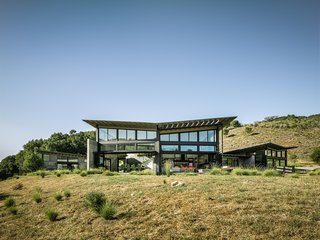 Location: Menlo Park, California
Though Rian and Melissa Jorgensen were initially drawn to prefab solutions, the customizations they wanted turned out to be cost prohibitive, so they turned to Feldman Architecture for an energy-efficient green home that would fit their budget. Named for its two perpendicular sections, 2 Bar House features a host of environmentally-friendly features, all of them capped by a living roof by Lauren Schneider of Wonderland Garden.
Location: Carmel Valley, California
The first LEED Platinum Custom Home on California's Central Coast, this modern interpretation of the classic ranch house sits among the hills of the Santa Lucia Preserve. Its rammed-earth walls curve with the terrain and regulate temperatures throughout the day—while glazing, ventilation, and operable shading also contribute to a passive heating and cooling system. A covered porch and patio provide a strong connection between indoor and outdoor spaces.
Share your work with the community through Add a Home for a chance to be featured.