View Photos
10 Essential Tips For Creating a Hardworking Home Office
Whether your home office consists of a designated room or a tight corner in your kitchen, there are certain key strategies for making the most of it.
Take a look at these 10 effective tips for creating a home office space that will allow you to feel at home and comfortable—but also just as productive as you would at the company hub.
Working is much more pleasant when you have natural light to brighten up your space. If you aren't lucky enough to have a window, then invest in some stylish lighting.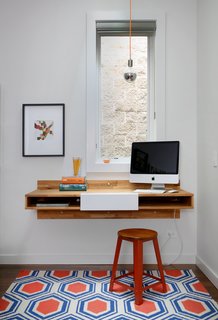 Newsletter
Join the Daily Dose Newsletter
Get carefully curated content filled with inspiring homes from around the world, innovative new products, and the best in modern design
A tabletop desk with trestle legs is a modern, customizable, and budget-friendly option for creating a clean surface to work from.

Dividing off your workspace with a temporary "wall" can be particularly effective if you're renting and can't make any permanent alterations to your home. Bookshelves also clearly serve a functional purpose.

A nook between two walls or two closets can be the perfect spot to squeeze in an office cubby. Look for a small-sized desk or have one custom-built to fit the exact measurements of your space.
Built-in units can solve storage issues while making your office space look like it was there all along.

This bright apartment renovation in Barcelona by Architectural design firm YLAB Arquitectos Barcelona, yielded a discrete home work space that's divided from from the living room with a sliding door.

A finished attic can be the perfect spot for a private—and quiet—home office .

By creating a desk out of roof beams, this home office perfectly integrates into an open-plan renovation of a Northern Italian farmhouse.

This couple makes good use of limited space by using the front loft of their weekend home for both work and play.
This Vancouver-based designer took an unused garage and turned it into a brilliant home office.