Openshop|Studio's design for a hivelike structure in the middle of a Brooklyn loft creates a chrysalis of comfort for a couple and their baby.
When opera singer Ainsley Ryan and Goldman Sachs VP Chris Showalter took over a fixer-upper loft in a former Ex-Lax factory in Boerum Hill, Brooklyn, they decided to, quite literally, think outside the box. Forgoing standard wall-building bedroom construction, the couple gave free rein to Adam Hayes and Mark Kroeckel of Openshop|Studio, who devised a fluid, multifaceted freestanding structure sheathed in oriented strand board (OSB). The configuration preserves the loft's open space and ample light while forming a master sleeping cove, bathroom, walk-in closet, and cavelike bedroom for the couple's other big project, daughter Tatum.
Newsletter
Join the Daily Dose Mailing List
Get carefully curated content filled with inspiring homes from around the world, innovative new products, and the best in modern design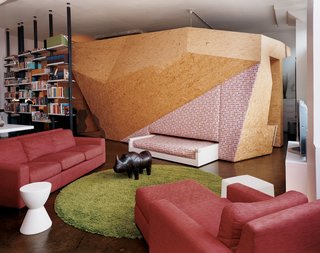 When we bought this place, we could not have moved in. It was weird. It was bizarre. It was filthy—–the carpets, the walls, everything. They had lofted the bedroom, but we're really tall—–I'm six feet, Chris is six-three—–so for us, that just didn't work. Underneath, they had what looked almost like a garage—–an enormous crawl space packed full of junk. The two huge columns were drywalled and part of a closet, so we didn't even know they were here. The layout was just absolutely insane. This probably appears insane too, but basically, we knew we had to gut it.
We hired friends of ours, Adam Hayes and Mark Kroeckel, to help us design it. We knew that this might be the last apartment we'd live in in New York, and came to the conclusion that we might as well go crazy. We gave them carte blanche. The only thing I cared about was the grand piano. So they basically had a big rectangle to work with.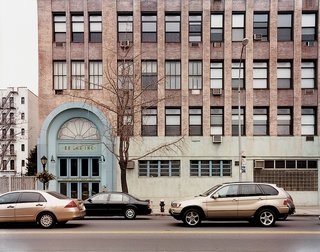 This is a south-facing apartment, so the sun that comes in is so bright. It could be 20 degrees outside, but in here, you feel like you're at the beach. We wanted the light and the air to continue to circulate around the apartment and not build walls blocking off large portions of the space. We also knew we didn't care for a big bedroom. That's why the designers came up with this structure: It bends, it has skylights, and it's open. The bedroom is tucked beneath a fold, Tatum's room and the bathroom are enclosed, and  the closet is formed between the back wall of the apartment and an outer wall of the structure. The designers called it a form or volume in their plans, but our friends call it the hive, the pod, or the amoeba. It sort of looked like a dinosaur skeleton.
When you talk to people who've renovated in New York, you hear horror stories about how it takes twice as long and costs twice as much. And we started the whole process before I was pregnant. I had to call the architects and say, "Uh, so, we actually need a baby's room now." It's funny, they were the first people I told I was pregnant!
The renovations started in September 2006. Because the apartment is on the second floor, passersby could see inside; people were running out onto the middle of the street, saying, "What is going on up there?"
Living here took a little bit of getting used to, because you're just so accustomed to having walls and four corners. You feel almost like you've been institutionalized. Of course, I had a newborn, so I was out of my mind to begin with.
The baby loves the structure, though. She loves running around and playing hide-and-seek in it. Tatum doesn't know it's weird. She just thinks everyone's bedroom looks like that. The built-in bench in her room doubles as a storage bin for her stuff, which is greatly needed. She basically learned to walk by moving alongside the bench. The Flor tiles make the surfaces more baby-friendly. During the day, the light streaming in through the skylight turns a corner and it gets darker, which is great for naps. She won't sleep through the night when we're all out of town.
For our bedroom, we wanted a simple sleeping nook. This is where we really used material to soften up the structure. The felt makes it feel cozy, and the light pours in from the windows each morning and makes it nice and warm. Even the pendant lamps are rubber, in case you smack your head on them. At first I felt like I was waking up in a spaceship, but I got used to it. Everyone that goes in there is like, "Oh my god, that's awesome!" Then they want us to put felt on the rest of it.
A lot of people are shocked by the material—–definitely more so than the shape. They can't get over the wood. If it were a different material, I think people would have a different response. But we had a budget—–we couldn't build it out of marble! Also, this is a very low-toxicity, low-emissions OSB. That was very important to me. I really wanted a safe, green material.
Chris was worried that the design and the theme of exposed wood and concrete would make it feel hard. But the bedroom and the roll-out bed area, which is padded so it can double as a place to curl up and watch a movie, really soften things up. Having a big, explosively colorful, comfortable rug to mitigate the industrial feel of the space is also important.
The open kitchen is awesome. It's critical for me with a baby to be able to watch her play while I'm cooking. It's great for entertaining; the custom Corian table that wraps around the column is perfect for dinner parties.
The shelving and the closet use identical custom ironwork so you can take brackets out, put poles up—–whatever you want. We've rearranged the shelves several times already; we took them off of the lower level because Tatum was starting to walk.
We love it, though. Today, I had no lights on, and the hallway inside the structure was lit up by the sun. The air circulates really well and it always feels fresh in here. Except for when I'm burning spanakopita.