View Photos
10 Tiny Home Floor Plans That Illustrate Smart Use of Space
Find out how tiny homes fit everything in such a small amount of square footage with these free floor plans.
Known for their thoughtful and carefully planned spaces, tiny homes are efficient—usually between 200 and 1,000 square feet—and pack a lot of innovative, space-saving solutions into their small footprints. From layouts that incorporate lofted spaces to wheels or trailers for mobility to furniture that is either multifunctional or easy to store, what tiny homes lack in space, they make up for in high-quality design. Read on to see the floor plans of some of our favorite tiny homes.

West Coast Homes was created in 2011 as a division of Faber Construction, a family-owned residential building company that was established in 1987. The company offers four different tiny home floor plans, each at 400 square feet and stationary rather than on wheels for mobility. The Salish features a flat roof and large, floor-to-ceiling windows for lots of natural light on the exterior.
Newsletter
Join the Tiny Homes Newsletter
Get carefully curated content filled with inspiring homes from around the world, innovative new products, and the best in modern design
Minim Micro Homes seeks to create modern tiny homes that can be constructed on wheels for mobility or with foundations for stationary homes. Their award-winning model, the Minim House, encompasses 264 square feet but feels surprisingly bright and airy thanks to its large windows and glass doors. While the company only makes this one model, the home comes with several customizable options, and clients can choose electric/water packages for locations without utilities.
Bright and eye-catching as it is tiny and practical, the Magenta House by Pinup Houses features a kitchenette, convertible sofa-bed with storage underneath, a heater with exterior exhaust, and, of course, a magenta exterior. At only 70 square feet, it's a tight squeeze for more than one person, but it's also travel-friendly (being on wheels) and has the potential to be built for around $2,500. We particularly love the plywood interiors and the use of netting for storage under the gabled roof.
Founded by Santa Barbara, California–based architect Matthew Hofmann and his wife and business partner Joanna, Living Vehicle designs and manufactures high-end mobile homes. Their company, which now has its own manufacturing facility and employs more than 25 people, designs mobile tiny homes that are able to function off-grid because of solar panels feeding a solar system and oversized water tanks.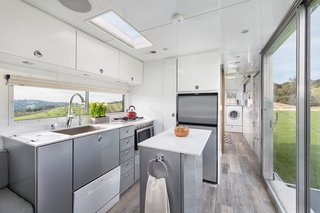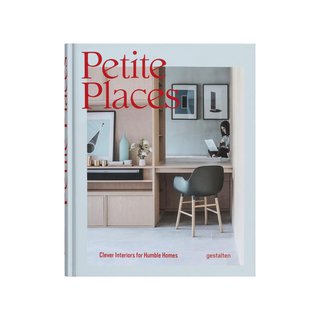 With a warm but modern style, Alaska–based Ana White designs tiny homes and bespoke furniture for small spaces, including this tiny home with a lofted bed that looks out a clerestory window. The walls are whitewashed and airy, allowing the accents of natural wood to pop.

From the designers and builders at Handcrafted Movement comes The Pacific Pioneer, a tiny house trailer that, despite its size, is able to sleep up to a whopping seven people because of its convertible sofa-bed and lofted sleeping spaces. Sustainable features include LED lighting, energy efficient appliances and plumbing fixtures, and excellent R-values for the exterior's insulation.
Kasita is a modern micro home that, at about 350 square feet, can be used as anything from a backyard apartment to a rural retreat to an office or studio. Their current offering, a studio plan, comes with a queen sized bed that tucks out of sight, a walk-in shower, refrigerator, convection oven, washer/dryer combo, and cooktop; the homes also feature integrated technologies including built-in speakers, automated thermostats, lighting, shades, fans, and easy connections for mobile and other devices.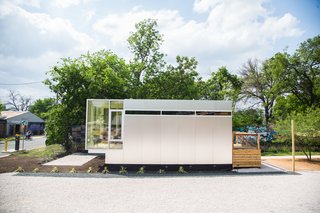 Made out of a gooseneck trailer, The Goose tiny home by Tiny Heirloom is a two-level, flexible tiny home that can be upgraded from its two bedroom configuration (located on the second floor) to include an additional lofted space. The ground floor features an L-shaped kitchen, full bathroom, and a fold-up dining table, and the home is highly customizable from the length of the trailers (ranging from 31 feet to 37 feet long) to interior fittings, lighting, and skylights.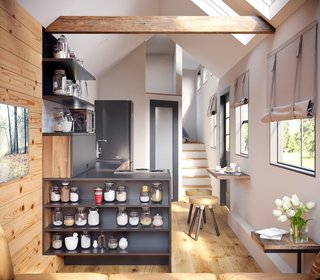 The perfect house for being on the move, the Roadhaus Wedge RV by Wheelhaus is on wheels and makes for an easy guesthouse, backyard office, or tiny home. The floor plan features an outdoor deck for integrated indoor/outdoor living, which also helps to expand the home's 250 square feet.
The Verve line of tiny homes by Truform Tiny Homes starts at $39,000 ($45,900 for the Lux) and comes in two layouts: The Verve and The Verve Lux, both available in 16-foot-, 22-foot-, and 28-foot-long options. The larger of the two floor plans, the Lux has a larger bathroom with a toilet bump out as well as a fold-down deck, detachable awning, and a larger kitchen. Both have a modern exterior of colored panels and wood siding, and the Lux also has the option to come with a smart house kit.