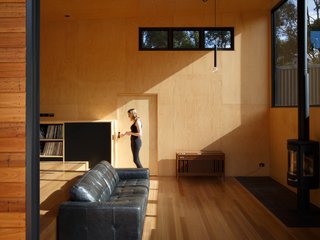 View Photos
A Melbourne Couple Escape City Living in This Tasmanian Retreat
Despite its dark facade to visually recede into the bush, this countryside home boasts bright, light, and cozy interiors.
With a population of less than 400 people, the small town of Pelverata in Tasmania seemed like the perfect place to settle for a Melbourne couple looking to escape the chaos of city living.
Not too long after stumbling upon this rural destination, the dup tapped Hobart–based firm Maguire + Devine Architects to help bring their dreamy retreat to life.
Get the Dwell Newsletter
Get carefully curated content filled with inspiring homes from around the world, innovative new products, and the best in modern design.
Working with a limited budget, the team designed a charming house with 1,400-square-foot floor plan.
To circumvent rising building prices in Southern Tasmania, the architects created a small and simple structure, using a limited material palette of Spandek for the external cladding, hoop ply for the interior walls, floors, and ceiling, and fire-resisting stringy bark timber for the outdoor terrace.
Using concrete only as piers, the team kept construction light with a suspended timber floor, causing minimal disturbance to the dispersive soils on the site.
High ceilings and strategically placed windows make the interior spaces feel larger and more open.
"The internal hoop ply lining is light, warm, and cozy, while the external dark-metal cladding is a robust protective skin that visually recedes into the bush," says Dan Devine, the firm's co-founder.
The house is oriented to frame tranquil views of the surrounding forested hills. The main living areas open onto a sheltered terrace that is drenched in light from the northern sun throughout the day.
Shop the Look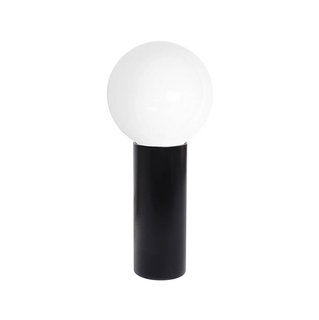 "Everyday life is celebrated through the design of this modest house; cooking with plenty of natural light and ventilation, indulging in a free-standing bath at sunset with an uninterrupted view of the surrounding vegetation, or arriving home to a warm, sunny home while valley neighbors light their fires," says Devine.