View Photos
Budget Breakdown: A Tired RV Is Refreshed and Relisted For $21K
A DIY couple in Phoenix give a 2004 Jayco camper a contemporary upgrade and put it back on the market.
Phoenix, Arizona–based couple Steve and Trina Sholin have brought their house-flipping skills to the tiny home movement in the form of masterful RV renovations. Their most recent project? A 350-square-foot, 2004 Jayco Designer RLTS-33 ft Fifth Wheel that was worse for wear until the duo gave it a total makeover for a total of $21,345. Now the charming home-on-wheels is available for $27,000—a great value considering the labor of love that was poured into it.
Newsletter
Join the Renovations Newsletter
Get carefully curated content filled with inspiring homes from around the world, innovative new products, and the best in modern design
The Sholins removed the outdated wallpaper border and furniture from the original trailer, and replaced all the flooring with new wood laminate.
The most challenging part of the renovation was installing a water pump in the middle of the rear living room. "The pump needed to remain accessible, which compounded the problem," says Trina. "My solution was designing a custom dining bench with a hinged seat."
"I love these little challenges that come with renovating RVs. These tricky aspects bring out my creativity and problem-solving skills, which makes the whole process extremely gratifying," she says.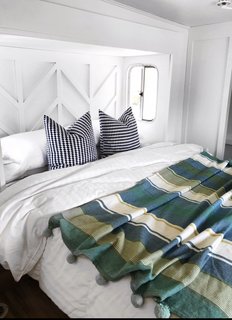 The camper is now available for sale for $27,000. If you're interested in owning this stylishly renovated tiny home, you can contact Trina at trinahakkinen@yahoo.com, or reach out through the Sholins' Instagram.