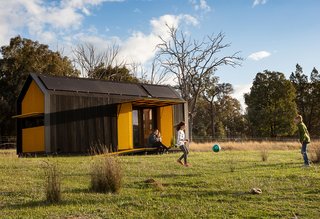 This Bold Tiny Home Blends The Best of Traditional and Contemporary Aesthetics
The RACV tiny home showcases how to live efficiently, sustainably, and stylishly in just over 200 square feet.
When the Royal Automobile Club of Victoria, Australia, commissioned Maddison Architects to devise a home that facilitates compact and sustainable living for an exhibition, architects Peter Maddison and Jesse Newstadt responded with a design that's vibrant, dynamic, and strikes the right balance between traditional and contemporary styling. "It's a tiny home that acts as an education tool for visitors, showcasing sustainable building practices, materials, and technology within the fabric of a compact, transportable building," Newstadt says.

Marked by sunshine-yellow hydraulic panels—crafted from fiberglass mesh grating—that fold open or closed in the way the panels of a cardboard box do, the 204-square-foot tiny home slides off a truck and can be situated on almost any lot in any landscape. "We used the gridded yellow panels to create sun shades, wing walls, and decking," Newstadt says. "They fold and hinge, adding a playful touch."
The brightly colored, contemporary-style panels are an aesthetic counterpoint to the traditional pitched roof that the architects employed. "We sought to investigate the simple gable roof form as an iconic indicator of home," Newstadt says.
The architects sided the exterior walls of the house with finely spaced shiplap timber—Category 1 wood—with a charred finish by Eco Timber. "A seven-layer wall-and-roof system includes 'phase change,' satchels of coconut and soy bean oil, that produces a wall characteristic equal to a 100mm thick concrete slab," Newstadt explains.
The tailored design features crisp lines and little detailing. "To create a sleek appearance, all extraneous objects, such as gutters, solar panels and water tanks were tucked into or behind walls," Newstadt says.
On the interior, Newstadt and Maddison clad the walls with radial sawn Vic hardwood and Readycork pre-finished cork flooring by Premium Floors Australia. The cushions for the built-in furniture are upholstered with Australian wool and felt selected by textile consultant Clare Kedler.
"The home can operate totally off-grid or connect into services," Newstadt says. "A high level of connectivity has been embedded into the fabric of the building to allow for voice-activated Google Home to run automated systems that include Wifi, a security system, and a home entertainment system."
Stay up to Date on the Latest in Tiny Homes
Discover small spaces filled with big ideas—from clever storage solutions to shape-shifting rooms.