Modern Meets Traditional in a Swedish Summer House
On an 18th-century farmstead in rural Sweden, two Copenhagen designers handcraft a summerhouse that seamlessly melds the modern and the traditional.
Stone walls, curly-haired cows, and oxblood-red farmhouses flank the narrow lanes of Glimåkra, a tiny town in southern Sweden. High-powered Copenhagen pair Mads Odgård, a designer, and Mette Lyng Hansen, an architect, came here in 2000, seeking a summerhouse, studio space, and simple living. What they found was Truedatorp, an 18th-century estate consisting of three deteriorating farm buildings.
Newsletter
Join the Daily Dose Mailing List
Get carefully curated content filled with inspiring homes from around the world, innovative new products, and the best in modern design
The farmhouse was inhabited by an aging Swedish farmer, who cooked food over an open hearth and used candlelight. The three-bay barn was filled with metal cans, chains, and other detritus. The chief bathroom was a wooden outhouse. But for the Danish couple, Truedatorp promised workspace, an open floor plan they didn't have in their five-story row home in Copenhagen, and the opportunity for an ongoing project. So they bought it and embarked on a 12-year-long renovation, fixing the place up slowly and designing furnishings and fixtures as they saw fit. With the help of friends, Odgård and Lyng Hansen did nearly all of the work themselves, sticking to a simple aesthetic.
The wooden farmhouses that dot the hillsides around Glimåkra are classic examples of the vernacular style: simple buildings that include central stone fireplaces, which provide structural integrity, flanked by two bedrooms and one or two living rooms on either side. With exteriors coated in Falu Rödfärg—a traditional centuries-old paint that includes by-products from a 13th-century copper mine to help preserve the wood—the houses are an attractive and affordable option for city-dwellers. "People in Sweden don't want to buy these old, poor houses, so now many of them are occupied by Danes," Lyng Hansen says.
Working together in their house in Copenhagen, Lyng Hansen, head of the local branch of C. F. Møller Architects, one of Scandinavia's oldest architecture firms, and Odgård, a designer who creates objects ranging from flatware and furniture to car prototypes, started sketching out ideas for the property.
Though the farmhouse was in the best condition, its rooms were small and structurally problematic to reconfigure. So the team decided to start with the hay-filled barn, which had bowing walls and a sagging roof but offered their best chance for an open-plan residence. Keeping the exterior intact was a priority, so the couple built a support structure from the outside. Inspired by American barn renovations he'd witnessed in Minnesota while on a cross-country hitchhiking tour in 1979, Odgård bought one-inch steel rods from the local hardware store and threaded them through central bolts to anchor the walls and replace the original ceiling beams. The rods give the barn what Lyng Hansen calls "an industrial look with a craftsmanship identity." They also provide a few extra inches of headroom—key for Odgård, who, as a typically tall Dane, was constantly bumping his head.
For authenticity's sake—and to keep costs down—the couple reused materials when possible and sourced many other materials locally. They transformed the building's original doors into tables and chairs and scoured the neighborhood for cast-off poured-concrete tiles to replace their own weather-cracked roof tiles. Even now, "whenever we see somebody taking down old roof tiles in the neighborhood, we stop and ask if we can have them as spares for when ours break," Odgård says.
Today, the barn's interiors are modern and minimal, stripped down to one main room, with a bedroom on one end, and painted white in the Danish tradition. Double French doors slide open on all sides of the rectangular dwelling, allowing watery Swedish sun to illuminate the pine floors, which the couple sourced from a tree on their property and had milled locally. The main living space serves as workspace, dining room, living room, and, on rainy days, as a makeshift skate park for William, their eight-year-old son. The kitchen, outfitted mostly from Ikea (the founder of the Swedish furniture chain lives just 30 minutes north), is what Odgård calls "nice and basic." But, as with the rustic wooden outhouse—the family's main bathroom, illuminated by Arne Jacobsen's iconic AJ wall lamp—good design counterbalances small inconveniences, like the lack of hot water in the kitchen or a proper flushing toilet. "If you have a real water closet, you have to worry about it freezing during the winter," Lyng Hansen says, practically. "The very simple sanitary conditions aren't an issue."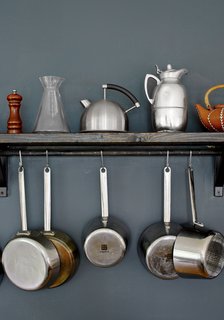 Scattered throughout the kitchen and living room are utensils, furniture, and flatware of Odgård's design. The pullout shelves in the kitchen are stacked high with cups, plates, and flatware he's made for various manufacturers, and his signature teakettle for Raadvad sits on the stove. The two-liter pots in the kitchen, designed to stack neatly together to save space, and the leather cushions in the living room, which fold to create a chair or a bed, reflect Odgård's motto "Keep it simple." He says his designs mostly stem from everyday needs. "Do I need something? I try to make it. That motivates me to do things," he says.
The couple estimates that though their project feels nearly complete, there will be inevitable design tweaks in the future. After renovating the kitchen in the farmhouse, which the couple uses as a guesthouse, they tore it out again to revert to its more original state. Lyng Hansen wonders aloud about razing the building that bridges the gap between their home and the guesthouse. "Now that we've had the property for more than ten years, we're redoing some of the things we did initially," Lyng Hansen says. "But that's part of the fun. When you're working on something inexpensive and then decide you don't like it, fine. You're not tearing down millions of kroners worth of work.