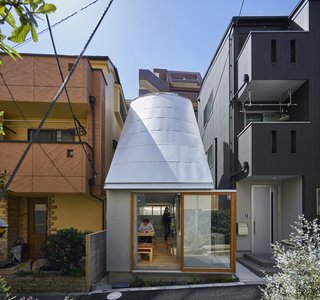 A Concrete Tiny House in Tokyo Opens to the Sky—and the Street
In a city known for its density and small residences, this tiny home employs skylights and a large glass door to connect with its environs.
Architect and architecture professor Takeshi Hosaka was tired of the long commute from his home in Yokohama to his university on the outskirts of Tokyo, so he decided to purchase a small lot in Tokyo and design his own home. The lot measures 340 square feet, however Hosaka and his wife decided that just 200 square feet would be enough space for the two of them.
While designing the home, Hosaka considered other houses that were of a similar size: Le Corbusier's Cabanon, House Hyazinth by Tachihara Michizo, and even a house from a book that his wife was reading at the time.
Hosaka designed the home with specific functions in mind—he knew he wanted to include room for a bathtub, the couple's collection of 300 records, a kitchen that would fit a clay pot for boiling rice, a reading nook, and a spiritual space.
While conducting sun simulations, Hosaka found that the site receives virtually no direct sunlight for 3 months during the winter. Disappointed but unfettered and determined to find a solution, Hosaka looked to Scandinavian countries and the way they address similar problems.

This led to the form of the house, which provides natural light regardless of the season. Two curved roofs with open skylights at the apex bring in soft winter sun and bright summer sun. The home's unusual geometry is constructed from thick, stocky precast reinforced concrete panels.
The house contains three main zones: a dining area, a kitchen, and a bedroom. Concrete elements extend from the walls to serve as built-in furniture—as seen in the kitchen countertop and the structural elements of the shelving in the storage area.
At the front of the house, a large glass door allows the homeowners to interact with neighbors—children walking home from school, friends walking their dogs, and others who happen to stroll by. This opening to the street makes the small home feel bigger.
Stay up to Date on the Latest in Tiny Homes
Discover small spaces filled with big ideas—from clever storage solutions to shape-shifting rooms.