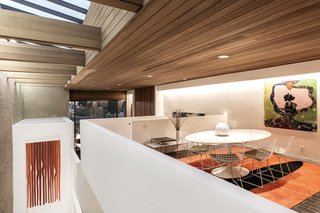 A Luminous L.A. Beach House With All-Original Features Asks $2.3M
Designed by Buff & Hensman in 1983, the award-winning Harry Dorsey Residence in Playa del Rey has a dramatic, three-story atrium.
Modernist architecture in Southern California evolved at the hands of big names: Neutra, Schindler, and Lautner, among others. Later to the scene but not to be forgotten was Buff, Straub, and Hensman, a midcentury powerhouse firm formed by graduates of the influential School of Architecture at the University of Southern California (USC). The firm—later renamed Buff & Hensman—is best known for joining the Case Study House Program in 1958. Decades later, the architects sealed their legacy with the Harry Dorsey Residence—an award-winning home that utilized modernist proportions to maximize access to light and views.
Among the residence's most striking features is a massive skylight that runs nearly the entire depth of the home and floods the three-story interior with natural light. Beneath the skylight is a full-height atrium, over which looks a second-floor balcony and top-floor mezzanine level. Massive windows pull light in from the front facade while providing views out over the lagoon and Pacific Ocean beyond. The design was given an Award of Merit by the AIA Pasadena and Foothill Chapter in 1984.
The current owners, Beth and John Crosse, purchased the home in 2000. "We fell in love with the home's location, sense of privacy, use of materials, and unique floor plan," says John. "The creative genius of the architects allowed conversion of an extremely narrow beach lot into a spacious feeling, light-filled work of art."
Not knowing much about the architects before moving into the home, the experience of living in the space inspired John to learn more about the firm's legacy; eventually, he even wrote an annotated bibliography and helped put together a project database of all the firm's work.
Known as the Harry Dorsey Residence after its first owner, the four-bedroom and two-bathroom home offers nearly 3,000 square feet of interior space, as well as a rooftop garden. Everything with the exception of the kitchen appliances is original to the home. Keep scrolling to see more of the property, currently listed for $2,295,000.
Get the Real Estate Newsletter
From midcentury classics to the best contemporary spaces for sale, see the latest listings for modern homes on the market around the world.