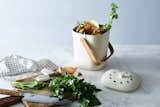 12 Stylish Compost Bins That Don't Look Like Garbage
Turn your kitchen scraps into green gold with these sleek, stylish, and affordable composting bins.
Food scraps and yard waste make up 20 percent of what we throw away. Do your part to reduce trash (and feed your garden) with these compact indoor bins for apple cores, potato peels, paper towels, and more.
Fill up on the Latest in Kitchen Design
Discover inspired kitchens and get design advice for the heart of your home.