Art-Filled Hamptons Vacation Home
Inspired by their clients' bold art collection, a pair of architects designs a Hamptons vacation house that subverts tradition.
Judging by their art collection, Andrew and Amy Weinstein appear to be unabashed risk-takers. A cartoon phallus, drawn on what looks like a steamed-up mirror, hangs in the bathroom of their Amagansett, New York, vacation home. A 16-foot-tall totem, made of rubber masks and spray foam, holds court in the double-height living room.
Newsletter
Join the Daily Dose Mailing List
Get carefully curated content filled with inspiring homes from around the world, innovative new products, and the best in modern design
Despite this yen for the subversive in contemporary art, the couple's architectural choices were, for years, somewhat conventional. When not living in their midcentury co-op on Manhattan's East Side, the Weinsteins escaped to a shingled 1,050-square-foot cottage on the Atlantic Ocean in Amagansett. When their first child began crawling in 2005, they initially looked into adding a basement playroom and second floor to the house. But when the high water table rendered that impossible—and Amy became pregnant with the couple's second child—they decided to start over on a roughly two-acre wooded lot a couple of miles inland. The plan was to reinterpret their beloved vintage cottage on a scale large enough to accommodate both their burgeoning family and their art collection—"a house house," says Amy. "Looking back," says Andrew, "it was about going with what we knew."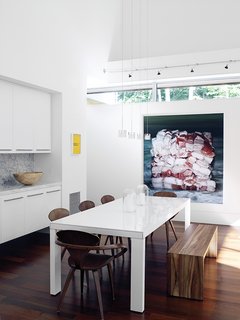 But after canvassing the architectural talent on Long Island's East End—where faux-traditional trophy estates dominate the beachscape—the couple felt uninspired. They finally connected with Paul Masi and Harry Bates of Bates Masi + Architects—in spite of the Sag Harbor firm's distinctly modern oeuvre. "We were really looking to build a fairly traditional Hamptons cottage," says Andrew, a criminal defense attorney. "But we fell in love with Paul and Harry as people." This was, in part, because the architects' philosophy of design as storytelling reminded the Weinsteins of the artists whose work they collect. "We are drawn to conceptual and process-driven art and less concerned with its ultimate aesthetic," Andrew adds. "I work in a courtroom with judges and rules, where the thinking can be fairly constricted. Talking and dealing with people who function on a completely different level is a creative outlet for me."
The collaboration began as a holistic discussion about how the Weinsteins planned to use the house and how their needs would change as their children, now ten and seven, grew up. "I said, 'Let's go into this project not talking about traditional style, but talking about how you live, what inspires you, what you like to do,'" says Masi. The Weinsteins' desire for relief from their cramped urban life led to an open-plan first floor with a broad deck, floor-to-ceiling sliding doors, and wide expanses of glass uniting inside and out. Their wish to own larger-scale sculptures inspired the double-height ceiling. The front of the living area consists mostly of walls—to optimize art display space—with carefully placed slots of glass to let in light. A glass-walled master suite opens to the surrounding forest and gardens and feels totally separate from the children's and guest bedrooms upstairs. "The design process was so much more than giving us a set of blueprints," says Andrew.
To integrate traditional and modern elements, the architects took a cue from the Weinsteins' idiosyncratic art collection, whose recurring theme, if it can be said to have one, is that things are not quite what they seem. "Andrew's art was unique because it had deeper meaning," says Masi. "I really liked that multilayered concept." This line of thought informed what Masi calls the house's "narrative of discovery" and how the architects repurposed humble and old-fashioned shapes and materials to create something radically different.
From form to finishes, the four-bedroom, 3,400-square-foot house wittily and easily blends old and new. The gabled silhouette, constructed over 18 months using a combination of precast insulated concrete materials and wood framing, offers a
pared-down suggestion of a traditional house while incorporating thoughtful modern details. "When you approach from a distance, you see these very familiar forms," says Masi. "But as you come closer, you realize that they're somewhat modified, with material and fabrication details that are unique." The first-floor exterior walls and fence, for example, are clad with horizontal survey stakes, identical to the ones that dotted the lot when the Weinsteins first bought it; the humble picket shapes pull off a graphic effect when collaged en masse. The chimney appears to be cast from solid concrete but is actually composed of lightweight autoclaved cement panels affixed to a lath system, with screws left exposed.
The Weinsteins did get their cherished Hamptons shingles—they lend warmth to the exterior's upper level—but as the process unfolded, the couple underwent their own transformation, from reluctant modernists to enthusiastic ones. When Masi suggested classic wood-framed doors and windows, the couple instead opted for steel. "There was less and less resistance, and then no resistance, toward anything Paul wanted to do," says Amy. "By the time we got to the end of the project," her husband adds, "we were actually pushing them to go more and more modern."