A Modern Farmhouse Recalls Old-Time Americana
Recommended by
Thanks to Matthew Hufft, their envelope-pushing architect and longtime friend, Hannah and Paul Catlett have a new home in southwestern Missouri that's a fresh, unconventional take on the traditional farmhouse.
When Hannah and Paul Catlett first pulled up to a three-acre chunk of rolling hillside outside Springfield, Missouri, things didn't look promising. A crumbling old ranch-style house stood caving in on itself, and the land didn't seem like anything special, either. But when the Catletts saw the sweeping view of the Ozarks from the back door, everything changed. "We walked out and we had a euphoric feeling," Paul remembers. "It was like: 'Oh, my God. This is it.'" They closed on the property a week later, and in short order had the ranch house razed and its lumber sent off to an Amish community for chicken coops.
Then the real transformation began. The couple initially planned to build a neotraditional farmhouse, which is standard fare in this corner of the world. But over the course of the year-and-a-half-long design process, their notions were tweaked, prodded, and coaxed into the minimalist incarnation they now call the Porch House—and home.
"They were really pushing for a traditional farmhouse," explains architect Matthew Hufft, of the Kansas City–based firm Hufft Projects. "But through the design process, they got more and more excited about modern."
The couple had some priorities at the outset. As local business owners—they run a hair salon in Springfield—the Catletts hoped to use both local tradespeople and local materials whenever possible. They wanted the house to be energy efficient. Most of all, they hoped to connect with the outdoors: to the tree-covered hills, the animals in the pasture next door, and the river valley to the south, where sometimes they see trains pushing through the nighttime fog. They wanted, in other words, the signature feature of a farmhouse: a big ol' porch. But when Hufft suggested that the porch forgo the typical pillars, the Catletts balked.
"We fought on that," Paul says. Hufft persuaded them, though, that pillars would only mar the view they loved—and he won. "Now that we have no posts, I'm so grateful," Paul says. "It gives you the feeling of infinity, that you're free."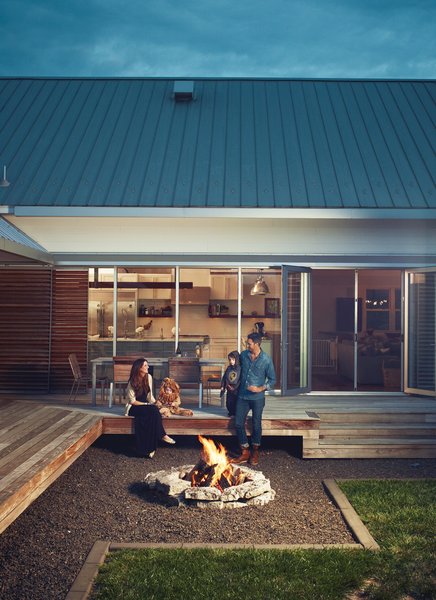 As their conversations continued, the Catletts found themselves losing other farmhouse features—multipaned windows, fake shutters—until they had a design calling for a stripped-down, 2,800-square- foot L-shaped structure, with a huge cantilevered overhang and a wide wraparound porch. In a nod to local resources, the fireplace mantel and the butcher- block counter in the kitchen were crafted from native walnut; local oak was used for the floors. Energy efficiency comes by way of geothermal heating, exterior louvered doors that keep out the blazing Missouri sun, and a roof overhang calculated to maximize winter light and minimize summer heat. "On a sunny 20-degree day in January, it'll be 72 degrees in here," Paul explains. "On a hot day, the air flowing through the space keeps it cool."


That their ideas shifted, the couple says, had a lot to do with their relationship with Hufft. Paul and Matthew, both Springfield natives, have been best friends since age 17, which meant that the push and pull of the design process was totally open and honest, and Hufft was able to help the couple make a leap or two. "We could trust him," Hannah says. "We knew that whatever he did was going to be smart; it was going to be correct."
With the designs in hand, the Catletts sold their downtown loft and moved into a barn on their new property, living in a workshop that Paul transformed into a small apartment. (The barn animals were vacated to the previous owner's new farm.) The couple were comfortably settled into their temporary quarters, and not in any massive hurry to finish their new house, when an urgent deadline arose. "The week we broke ground, I found out I was pregnant," Hannah remembers. "We told the builder we wanted it done in nine months. I said: 'I don't want a baby Jesus in the barn.'" Nine months later, the house was complete and the Catletts, with baby Link, were a family of three. "He did it," Hannah says, referring to builder Kenson Goff. "It was amazing."
The process was unusually glitch free, the Catletts say, largely because they were organized about sourcing fixtures and did much of the shopping themselves, storing everything from faucets to floor tiles in the barn so items were ready when the builders needed them. They also leaned on neighbors and friends for materials and help—a perk of rural life. "That's the thing about being in the country," Paul says. "You can just call your neighbor. People are resourceful around here."
Now home to a fourth Catlett, nearly two-year-old Hawk, the family's house and its sweep of porch always seem to draw people in. On a giant chalkboard in the hallway leading to their bedroom, the Catletts have hung dozens of pictures of family and friends, who often stop to admire the view. Impromptu gatherings come together in the barn, where Paul built a bar. ("It's a good little party space," he says.) The apartment where the couple lived during construction is now guest quarters, where friends who spend a bit too much time at the bar sometimes end up staying the night.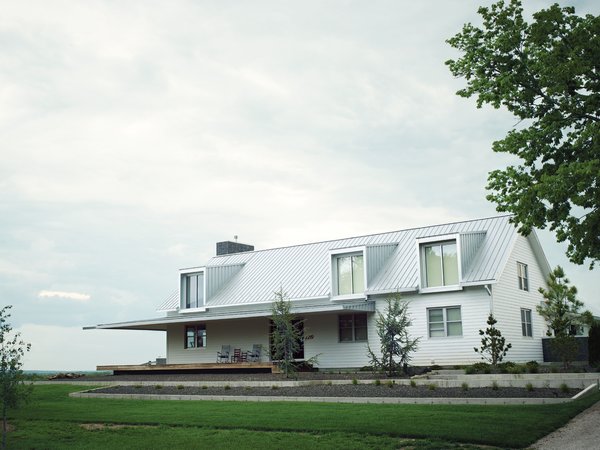 Though the house is sleekly modern—some visitors unaccustomed to contemporary architecture have said it looks like a spaceship—there are winks to old-time Americana throughout the property. Inside the barn, where Paul spends days off tinkering with tools, a 1972 Chevy pickup awaits restoration. It will be Link's one day. An El Camino for Hawk is parked outside in the grass. A shotgun occasionally sits on the bar and is used to shoot unwanted nonnative sparrows, which scare away the bluebirds. An American flag stuck in an old milk can camps in the front hall opposite Texas longhorns mounted on the wall.
Ultimately, the Catletts say, they ended up with a real farmhouse, where everything exists for a reason and everything gets used. It's a place where the family can embrace the best of countryside life, yet from a modern vantage point. "With all these glass walls, we can look out and see what our boys are destroying," Paul jokes, with a hint of Missouri twang. "We have the best time out here."
Georgina Gustin
@georgina_gustin
As a reporter for the St. Louis Post-Dispatch, Georgina Gustin writes about food-related issues, among other topics. Her travels for "Plains Gold" took her to Kansas city, at the western edge of Missouri. She was informed there that Kansas City is often considered the country's easternmost Western city, while St. Louis is considered the westernmost Eastern city. She is not sure if this is apt. What she does know, however, is that K.C. has some dang good barbecue.
Comments
Everybody loves feedback. Be the first to add a comment.
The author will be notified whenever new comments are added.