A Cramped Attic Became a Sunny Dining Room in this Renovation of a Copenhagen Tudor
A furniture designer carves out a modern family home in a renovated 1925 structure on the outskirts of Copenhagen.
If you hop on a bike in central Copenhagen and head southeast, you can expect to ride over a canal, past an opera house in the distance, and through a hippie enclave before eventually hitting the sea. What you might not expect is that a 20-minute ride from the city center could lead you to a colony of industrious, round-the-clock workers. Those workers—who happen to measure roughly an inch long, and who have yellow and black stripes—reside within a few homemade hives at the edge of an emerald lawn, in the shadow of an ivy-covered Tudor-style house on the island of Amager. The bees are the proud property of a 14-year-old boy named Fabian, who, with his grandfather's help, harvests upwards of 100 jars of honey each summer.
Newsletter
Join the Daily Dose Mailing List
Get carefully curated content filled with inspiring homes from around the world, innovative new products, and the best in modern design
Fabian's parents, Eglantine Charrier and Jeppe Fonnesbæk, moved to the area 15 years ago, renting the top two floors of a two-family residence (a neighbor lives in the ground-floor unit, and they share the basement). The traditional house, with its generous proportions, terra-cotta roof tiles, and grand corner lot, anchors a historic suburban neighborhood in an area sometimes maligned by residents of Copenhagen proper. (Some of Amager's landmass is the result of 20th-century infill, and the island was a popular landfill spot in the 1970s.) "When we first came out, I didn't know this area very well, and everybody said it was a lot of ugly buildings," Charrier says with a laugh. "But I saw all these old houses, and I thought, Wow, it's so close to the city that you can just bike in."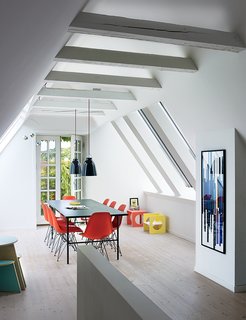 The family lived in the uppermost finished floor of the circa-1925 structure for five years, long enough to "get to know the house and see the possibilities," before they gutted and rebuilt the interiors, preserving the exterior shell. The primary addition was the finishing of the attic space—now a kitchen and dining area spanning the length of the house—which required raising the ceilings and updating the trimmings to meet fire code. On the main floor of their residence, Charrier and Fonnesbæk turned the old kitchen into a master bedroom and carved out two bedrooms for their three sons to share.
For Charrier, a designer and the co-owner of a children's furniture company called Small-Design, the highlight of the renovation is the new kitchen. "We chose to make the kitchen a bit furniture-like," she says of the streamlined black cabinetry, "so it's not just a kitchen. We wanted a place to gather friends, where the kids can do their homework or play—a really functional space for the whole family." To get away from a static, built-in feel, Charrier and her husband, a partner in a creative agency that works exclusively with Lego, decided to skip the upper cabinets and stow appliances under the compact laminate countertops. To open up the space, they inserted Vitral skylights under the roofline, like transparent ribs along the traditional peaked roof. "We don't have to heat [this floor] much in the winter," she explains, "because there is so much sun." To complement the open, low-key vibe, Charrier opted for Danish flooring, classic Dinesen wide-plank pine boards with a white-tinted wash.
Deployed throughout the house are Small-Design's versatile birch-plywood furniture pieces, all tailored to kid-size proportions. Charrier, a graduate of the Royal Danish Academy of Fine Arts, founded the company, with design partner Anja Lykke, a decade ago, while on maternity leave. "When you're pregnant, you really get to see what kind of [children's] furniture exists," she says. "We wanted to make furniture that's durable and that kids could use for many years, with many different functions—as a table but also as a chair, or to put books on." All of the pieces in the collection are manufactured locally by Danish carpenters (a definite plus in a global marketplace obsessed with Scandinavian craftsmanship), and 2015 brings new flat-pack versions of Small-Design's offerings, to service an international audience who might otherwise be turned off by shipping costs.
With three sons, Charrier has a built-in focus group for developing her designs. The two younger boys—Elliot, 12, and Mateo, nine—share a spacious room that doubles as a playroom for their collective group of friends. It's equipped with bunk beds, nooks and crannies for stashing toys, and, naturally, an impressive selection of Legos. There's also plenty of convertible Small-Design furniture, like a grassy-green table Charrier picked for the room. "I loved this shade of green growing up," she says. "It gives the impression of the garden coming into the house as well."
Outdoor space is crucial for a family with three boys. Luckily, the house is just 10 minutes from the beach at Kastrup, where the children can dive off the slatted, spiraling Sea Bath, designed by Swedish firm White Arkitekter. Closer to home, there's the garden right outside the front door, where, this year, the Fonnesbæk-Charrier clan added two new beehives, yielding enough of a harvest to host a honey festival, in August, for family and friends. Luckily, for those yet to fall for Amager's budding charms, it's just a quick 20-minute bike ride back to Copenhagen's city center.