A Concrete Home in Rural Belgium
Smitten from the start with a 1970s concrete villa in rural Belgium, a resident and her designer embark on a sensitive renovation that excises the bad (carpeted walls, dark rooms) and highlights the good (idyllic setting, statement architecture).
Brutalist buildings aren't everybody's design ideal, but when Nathalie Vandemoortele first saw the fortresslike house she now shares with her sons, Merlin, 14, and Cesar, 12, it was love at first sight. "I saw a real estate ad with a photo showing the view from the beautiful lake, with a sequence of ponds leading to this amazing building with round towers like a castle," she recalls. "I couldn't sleep until it was mine."
Newsletter
Join the Renovations Mailing List
Get carefully curated content filled with inspiring homes from around the world, innovative new products, and the best in modern design
The owners of the imposing concrete structure—built in 1972 by architects Johan Raman and Fritz Schaffrath, in the countryside near Ghent, Belgium—were holidaying in Cuba, but she insisted her agent contact them. One week after she first saw the house, they had struck a deal. But, as with many a case of instant attraction, Vandemoortele's fascination was rooted in outside appearances. "Externally, the architecture and the setting in the garden were beautiful, but the interior wasn't so great," she says. "It had several different levels with lots of little stairs, which was nice, but the layout was strange and confusing. It was quite dark, and, considering how lovely the garden is, there weren't enough views. Plus, the decor was horrible—in one room, there was black carpet on the walls and a bright-yellow acrylic bath."
Vandemoortele called in designer Renaud de Poorter, having worked with his partner, Femke Holdrinet, on stores for the fashion brand American Outfitters—which she runs with her two sisters. (Vandemoortele, a trained ballet dancer who later studied economics, is AO's general manager.) Together, Vandemoortele and de Poorter set about turning the run-down, badly decorated house into a home for Nathalie, her sons, and their dogs, Puella, a Lhasa apso, and Nine, a Labrador. "Renaud became a really good friend," she says. "His input into the house was just what was needed."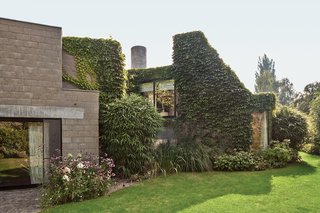 De Poorter agreed that the interior, as the previous occupants had left it, was "quite depressing." He focused on creating a space that was more open to its surroundings and that let more light into the building. That meant choosing a new location for the living room, which had been tucked away in the center of the house. It made more sense to position it at the end of the building closest to the lake, where a couple of small, cramped bedrooms had previously been situated. De Poorter decided to lower the floor here by several feet, which meant that the room now had a higher ceiling, and to put the main living space on the level of the outside landscape. Adding floor-to-ceiling glass doors let the room flow into the garden, and the addition of a huge, open fireplace added an earthy touch that nods to its original Brutalist aesthetic—which client and architect agreed must be preserved. "We tried to make our interventions look very natural, with no sign of design," says De Poorter. "We did a lot for the house, and it needed it, but we wanted our touch to be invisible."
Other changes included adding a hammam (a Turkish steam bath) at the site of the former entrance and converting a garage into Cesar's bedroom. In between, a stretch of glazing brightens a long hallway, and a floor of beautiful azul Castilla stone offers a refined contrast to the raw concrete prevalent in both the exterior and interior of the house. Through the glass, a pool lined in marble mosaic tiles throws sparkling reflections onto the ceiling. The house's onetime living room was remade into Vandemoortele's split-level bedroom, with a fireplace in the lounge area and a sleeping area that opens onto the garden.
While many new interventions have transformed the house, some details were simply refurbished, such as the original 1972 kitchen, with its black units and red sinks. A new wall of built-in kitchen cupboards, which Vandemoortele covered in silver leaf, holds the oven. "Most people would probably have just put a new kitchen in," she admits. "But I wanted to keep some parts of the house's history. I think that renovation often goes too far." Another survivor was the cupboard unit in the dining area, painted with water, lilies, and frogs, in 1975, by someone named Stan Raemdonck. "I've got no idea who he was," says Vandemoortele. "But I couldn't get rid of it—he was painting my garden. It's still like that today."
The rest of the house features abstract paintings and drawings by Belgian artist Hugo de Clercq, who was the father of a good friend. And Belgian designers like Maarten van Severen and Jos Devriendt are well represented in Vandemoortele's collection of modern furniture, much of it gathered from vintage stores in Ghent. Then, there are what Vandemoortele calls her "souvenirs"; she travels frequently and accumulates furniture and decorative objects from around the world, from Mongolia to Mali. "I can never resist something that I think is beautiful," she says.
The dining area opens onto a terrace with a built- in concrete table and barbecue, both original to the house. "We live outside a lot in the summer," says Vandemoortele. "Then, this house is the perfect place to be." She concedes that winters can be more challenging: "The solid concrete walls may be massively thick, but they aren't insulated," she says. "That's something to perhaps address in the future. But we've adapted. This house is actually quite demanding; you have to be committed." And she is. A new bathroom is planned for upstairs; she has already ordered the rose-tinted marble from Portugal. Says Vandemoortele: "It's a home, but it's also very much a work in progress."