Wood Paneling Loses its Dated Reputation with This Renovation of a 1959 Portland Gem
On a whim, a growing family uproots to Oregon where they find—and remake—the home of their dreams
Tucked under a grove of towering fir and cedar trees, Aaron and Yuka Ruell's house in southwest Portland is long and lean, its structure carefully sitting upon the suburban landscape with large expanses of glass, a bountiful use of wood, and generous overhangs, all markers of its vintage. It's a bright beacon of 20th-century Pacific Northwest design—refreshed for today. When the Ruells decided to remodel, there was no question that they'd hew closely to the home's original style: As Aaron says, "The architecture of this house almost demands that the interiors follow suit."
Newsletter
Join the Renovations Mailing List
Get carefully curated content filled with inspiring homes from around the world, innovative new products, and the best in modern design
To achieve their vision, they turned to a team of professionals who understood their desire to honor the home's history. Working with the couple, local firm Jessica Helgerson Interior Design created
an environment where midcentury tables sit beside contemporary sofas, and it's all punctuated with textured fabrics, vibrant colors, and vivid artwork.
The Ruells had long been looking for a midcentury home in Los Angeles. While they'd lived in a charming Mediterranean Revival in Pasadena, they were drawn to the clean lines, streamlined shapes, and warmth of midcentury modernism. "That's our personality," Aaron says. "We're not flashy people; we're super mellow. It felt like the right fit."
Los Angeles, however, proved less of a match. Professionally, the city made sense: Yuka was a film editor, before leaving to raise their kids, and Aaron is a director and photographer, with an acting credit as Kip in the movie Napoleon Dynamite. But, on a personal level, despite their 10 years there, the couple was "never really on the same page as L.A.," Yuka says.
On a whim, they went away for a weekend trip to Portland, where they met a Realtor and fell in love with a house with midcentury details and a family-friendly layout. Though Yuka was pregnant with twins, and the couple had a young daughter at home, they immediately made an offer to the original owner, a woman in her 80s. "The timing was crazy, but we were like, 'This is the place,'" Yuka remembers.
The 4,300-square-foot house was designed by local architect William Fletcher in 1959. Cedar-paneled walls and a logical, linear layout show the architect's style. Touches like a children's wing, replete with bunk beds and a reading nook; an art studio; and sculptures integrated into the home reflected the original homeowners' preferences.
Despite its good bones, the house was in need of serious remodeling, which the Ruells quickly realized after their first nine whirlwind months with newborn twins. Rats scrabbled in the leaky roof, the backyard was tangled with blackberry bushes, and the interior had come to feel dreary. "The previous owner had really good taste," says Yuka. "But it had gone from her era, to getting a really nice patina, to falling into decrepitude. And that's where we came in."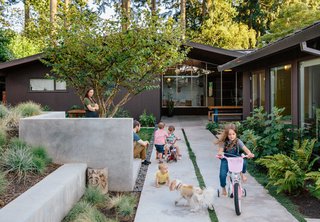 Wanting to stay as close as possible to the original design, Aaron tracked down Dale Farr, who was a partner in Fletcher's architecture firm (Fletcher has since passed away). Farr was tasked with making structural updates for a modern family, like extending the garage four feet to fit an SUV, and adding a media room off the front entrance to create a place for a 50-inch TV. The rotting roof shingles were replaced with dark metal standing-seam panels, which, Farr notes, "still look appropriate for the time." And nearly all of the many single-paned windows were custom-fitted with double-paned glass—so they look the same but are now more energy efficient.
After about 350 square feet were added to the home, Jessica Helgerson Interior Design collaborated with the Ruells on the interior.
"We respected the architecture, but we wanted to add a freshness to it," says designer and project manager Emily Knudsen Leland. Skylights by CrystaLite were added to bring in natural light, murky green walls were given coats of white paint, and oak floors replaced a hodgepodge of brick, tile, and carpet
in the living areas. And the master bath now includes a soaking tub and a skylight, in an open floor plan



The furnishings were likewise updated to suit the this busy family of six (they've since added another daughter to the mix)—as well as the house's revamped style. "It was about being inspired and taking cues from midcentury design," says Leland, "but also bringing in modern pieces that fit."
In the living room, a custom sofa in nubby wool nudges orange Ari lounge chairs by Norell, and sleek high chairs and Eames side chairs surround a Tulip dining table by Eero Saarinen. Pops of yellow and orange proliferate, in art and furnishings as well as swashes of paint—in large part driven by Aaron's own visual acumen.


Flashes of the original finishes remain: Sculptures by Portland artists Lee Kelly and Bonnie Bronson still stand outside and decorate the kitchen fireplace and island. And a profusion of vivid orange-and-yellow linoleum daisies still enliven the guest bath, as do a green tub and cheery red tile in the kids' bathroom. Wood paneling was left intact throughout.
Despite Aaron having a feature film in the works and an intense travel schedule, the Ruells are charmed by Portland's strong sense of community and verdant landscape. And like their new hometown, their remodeled home fits them exactly as they had hoped.
"Families have changed, and lifestyles have changed," Yuka says. "So there's a balance between respecting what was here and yet making it comfortable for now. I think there's a way to do both, and that's what we tried to do."