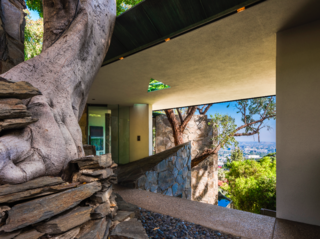 Designed Around Native Trees, John Lautner's Wolff Residence Just Sold for $5.9M
Lautner designed this masterpiece of organic architecture in 1961—and it just got snapped up by a Hearst family heiress.
Following an apprenticeship with Frank Lloyd Wright in the mid-1930s, John Lautner set out to build his own storied career in Los Angeles. It didn't take long for the young architect to gain recognition, especially with his dramatic and photogenic residential spaces, which are frequently the location of professional photo shoots or movie sets. One of the late architect's "favorite five" commissions landed on the market in November, but given its pristine condition, it's little wonder the property didn't stay on the market for too long. According to the Los Angeles Times, Amanda Hearst, a great-granddaughter of William Randolph Hearst, and her filmmaker husband Joachim Rønning purchased the house mid-February.
Blending intimacy and privacy with inspiring vistas, the Wolff Residence was designed on an almost vertical plot just above Sunset Plaza in 1961. The 1,664-square-foot home was commissioned by interior designer and concert pianist Marco Wolff. Employing stone, glass, and copper, the property is arguably one of Lautner's best midcentury designs.
Listed as a historical cultural monument by the City of Los Angeles, the property is also a California State Monument, making it eligible for tax benefits granted by the Mills Act. While all of Lautner's original blueprints and schematics for the home can be found at the Getty Center, the latest interior images are the first in 15 years.
Perched on a verdant 9,796-square-foot lot, the home is neighbored by a three-bedroom, two-bath guesthouse, which was built in 1970 and is also included in the sale. Scroll ahead to see inside of this iconic residence.

Get the Real Estate Newsletter
From midcentury classics to the best contemporary spaces for sale, see the latest listings for modern homes on the market around the world.