Visionary Architect Focus: Paolo Soleri
Recommended by
Countercultural architect Paolo Soleri looked beyond the bounds of four walls and a roof to orchestrate his vision for comprehensive ecological design.
"Paper architects" frequently dream up futuristic visions for the built environment that never transcend theoretical discourse. In his thousands of drawings, architect and artist Paolo Soleri (1919–2013) envisioned structures that supported a way of life more in tune with the ecosystem than the contemporaneous resource-consumptive culture. "His genius lay in his artistry and imagination," says Claire C. Carter, an assistant curator at work on a series of Soleri exhibitions at the Scottsdale Museum of Contemporary Art.
"He reached beyond social conventions in order to imagine a world that encourages culture, art, and craft and brings people closer to one another and closer to the natural world," Carter explains.
Other architects explored high-density megastructures, but Soleri took the concept further by defining the social system of people living within his "arcologies"—a term he coined by combining architecture and ecology. In 1970, Soleri broke ground on Arcosanti, located 60 miles outside of Phoenix, Arizona. The "prototype structure for environmental and social transformation" put his philosophies into action. The self-sufficient community, designed to accommodate up to 5,000 people, features residences, commercial and institutional spaces, agriculture, and visitor accommodations.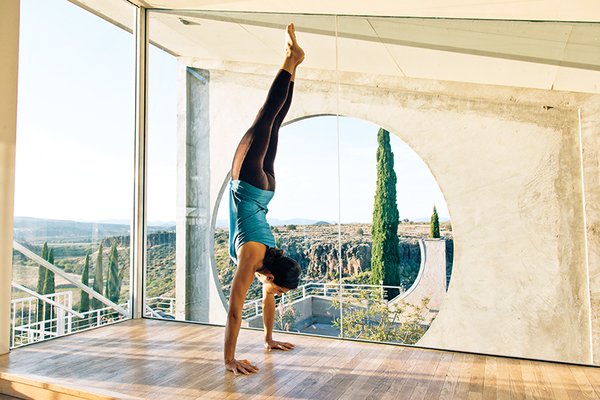 Arcosanti was a visionary project when built and remains relevant today. Over 50,000 visitors annually make the pilgrimage to the site for public programs, musical performances, and to experience Soleri's magnum opus in action. On April 9, 2013, at the age of 93, Soleri passed away. A memorial commemorating his life and work takes place at Arcosanti the weekend of September 21, 2013. arcosanti.org
Diana Budds
@dianabudds
A New York-based writer, Diana studied art history and environmental policy at UC Davis. Before rising to Senior Editor at Dwell—where she helped craft product coverage, features, and more—Diana worked in the Architecture and Design departments at MoMA and the San Francisco Museum of Modern Art. She counts finishing a 5K as one of her greatest accomplishments, gets excited about any travel involving trains, and her favorite magazine section is Rewind. Learn more about Diana at: http://dianabudds.com
Comments
Everybody loves feedback. Be the first to add a comment.
The author will be notified whenever new comments are added.