Amidst the pedestrian-friendly maze of leafy streets in New York City's West Village, LOT-EK, a firm whose designs focus on the creative reuse of industrial materials, inserted a gut-renovated and intensely colorful new home—getting a facade embedded with truck beds past the heritage commission along the way.
Lawrence and Alice Weiner have lived in New York City for nearly half a century, but it wasn't until 1990 that they bought their first house. Over the years, Lawrence, one of the godfathers of 20th-century conceptual art and widely known for his minimalist experiments with language, needed a bigger place to work—–and more room for his ever-expanding archive. Twenty years after moving in, with a renovation wrapped up in 2009, the Weiners' three-story house in the West Village is sublimely industrial. In the interest of collaboration, Alice and Lawrence talk us through their new home.
Newsletter
Join the Daily Dose Mailing List
Get carefully curated content filled with inspiring homes from around the world, innovative new products, and the best in modern design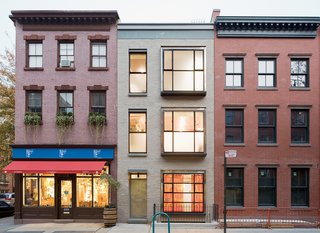 Alice: We've always lived in New York - Lawrence in the East Village since the early 1960s. But after we were evicted in 1988, with a note left on our door at seven o'clock in the morning, I spent about eight months riding my bike around the city, looking at buildings. Lawrence would only move to the West Village, he said, and I wanted a backyard. One day I biked past a former bakery and laundromat, and it had aluminum siding. I said I would never set foot in a building like that! But our real estate agents tricked me, basically, and got me to go inside. When I went downstairs, I saw that the entire basement wall was a mirror - and Lawrence loves to work with mirrors. I thought: Maybe this isn't so bad. So we bought it and moved in. Then two things happened: First, Mayor Giuliani changed the building codes to allow for another story, and, second, our neighbor started to build up. We didn't want to be overshadowed - literally: Someday we knew we wanted solar panels - so we started thinking about a renovation.
Alice: And he liked them, and he liked their work. Ada and Giuseppe also lived right here in the neighborhood, so we thought that they could break through the nicey-nicey aspect of the West Village. But we don't come from people who hire architects! That wasn't in our background. We started off looking by word of mouth, and we looked for quite a while. We made it clear right away that we wanted a green renovation. Initially, we had architects coming through offering environmentally friendly paints and things like that - but that just felt like stuff for rich people who don't want their children to get sick. We wanted something more.
Lawrence: Ada and Giuseppe got the spatial sense well. I need a lot of light, for instance, and I seem to require outdoor spaces, both psychologically and for my work. The earlier house was a mixture of studio and home, and I wanted the same arrangement. I was working on a retrospective while they were redoing the house, so I had to move in earlier and accommodate changes in the architecture. I saw the house come together, part by part, pragmatically, whereas Alice had a more holistic view of the final building.
Alice: LOT-EK was generous about letting us have what we wanted - but we were also very generous to them and open to their ideas. They had an interest in exposed industrial materials, and I actually wished that they had exposed more - like the radiant heating and the kitchen exhaust pipe - but the contractor wouldn't do it! They used diamond-plate steel as a backsplash in the kitchen - which we painted pink - and they put untreated plywood inside the elevator. We need that for moving Lawrence's work.
Lawrence: A lot of the detailing that we pushed for had to work around the spatial idea of the architects - that's not a bad thing, but you do have to work with someone else's ideas.
Alice: I like the roughness of LOT-EK's approach and Ada's tactile sense - like the reflective metal they used on the walls. It keeps the daylight moving through the house and it visually sustains the colors that we chose. There's also a lot of rubber, steel, and recycled oak - and it was their idea to use trucks in the facade. Of course, you can't please everybody. A little old lady came by one night; she knocked on our door, she had a cane in one hand, and she said that she hated the color of our bicycle rack! Our neighbors across the street called one night and said: "You left your truck lights on!"
Lawrence: The trucks are almost an elegant affectation. But the great thing was Ada and Giuseppe bringing a building that had been stuck in the mud into the present day, giving it a sense of openness without it really sticking out in the neighborhood.
Alice: You can miss the trucks entirely. The wall color blends in with the houses nearby, and it might be three or four times before you walk past and notice them. But this is New York; people shouldn't expect everybody to want to look like everybody else.