Budget Breakdown: A Creative Couple Rehab a Vermont Cabin For $18K
Enterprising couple Jenny McClary and Allie Leepson give their snug Vermont cabin a DIY makeover, which is now available to rent.
In 2017, Jenny McClary and Allie Leepson, a couple based in New York City, bought a small cabin in Vermont on a whim. They had been looking for property in Joshua Tree, but after being outbid several times, a short trip to Wardsboro in the southern part of the state led them to this 1982 gem.
$2,100
Fireplace
$3,250
Carpeting
$3,350
Engineered Hardwood
$1,800
Washer & Dryer
$600
Plumbing
$1,700
Electrical Work
$150
Hardware
$1,450
Interior Lighting
$300
Exterior Lighting
$590
Tech




Grand Total: $18,290
More Budget Breakdowns: See a neglected garage turned into a backyard hangout for $13K
Although the home had been sitting on the market for a year, the couple recognized good bones when they saw them. The interiors just needed a few small tweaks to give it a more modern look. "Our goal was to turn this traditional Vermont ski cabin into a well-designed space that's more than just a place to take your snow boots off in," the couple say.
Newsletter
Join the Renovations Mailing List
Get carefully curated content filled with inspiring homes from around the world, innovative new products, and the best in modern design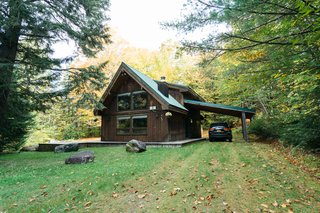 After purchase, the couple spent 4.5 months replacing flooring, swapping out hardware, painting, and wiring new lights in order to achieve a more streamlined style that's still cozy. Most importantly, they left the predominant knotty pine paneling in place, and not just because it was in good condition.
"It gives the home that rustic, Vermont charm," say the couple, who run a creative studio called The 1909. "We love the way it picks up light in the late afternoon. We also think it makes our cabin smell amazing."

The couple also installed a smart ductless heater and AC system through a promotion at their power company, Green Mountain Power. "It took our electric bills down from $700 to $100 a month, and now we can control everything through our phones," they say. "This was at absolutely no cost to us."