What You Need to Know About Frank Lloyd Wright's Usonian Homes
You've heard the term thrown around, but what does it actually mean, and where in the world is Usonia?
If you've heard of Frank Lloyd Wright, you may have heard of one of his most lasting endeavors: the Usonian house. Rather than referring to a specific structure, the Usonian house actually refers to a concept—better yet, a manifesto of housing and living— that he started crafting in the 1930s.
Newsletter
Join the Daily Dose Mailing List
Get carefully curated content filled with inspiring homes from around the world, innovative new products, and the best in modern design
During the Great Depression, Wright saw the United States on the cusp of change. Middle-class households would lead simpler lives without household help, but would still need good design, where elements like lighting, heating, and sanitation would be carefully addressed and landscape would serve as an inspiration. The homes were to be uniquely American, and it's possible that even the term Usonian was intended to be a play on "United States of America."

Based on this vision, Wright began designing about 100 homes that he called Usonian Automatics; most commonly, a Usonian home usually refers to one of a group of about 60 houses that Wright designed starting in 1936, with the Jacobs House in Madison, Wisconsin.
Wright designed each of the Usonian homes for specific clients, working with the families and naming the homes after them. The homes even inspired a planned community, now called Usonia Historic District, in Pleasantville, New York. The 100-acre rural tract was purchased by a couple who enlisted Wright to plan a community based on his architectural and urban planning ideals, and Wright personally designed three of the homes in the community and approved the architectural plans of the other 44, which were designed by various architects including former Wright apprentices.
With an eye to economic construction, Usonian homes were built with no attics or basements, an efficient use of indoor and outdoor space, simple rooflines for easy construction and maintenance, and in-floor radiant heating. The homes were laid out on a grid for a more standardized layout that would save on installation time and money. Ornamentation was minimal, and materials like brick, concrete, and wood were prominently featured and left unpainted to express their natural color and texture.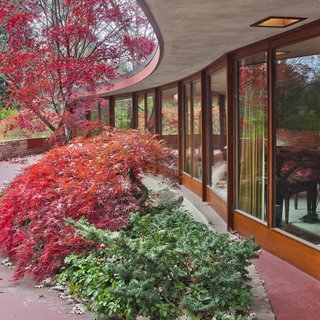 In plan, Usonian homes tended to be L-shaped and have open floor plans, without the formal living room of earlier American homes, showing Wright's understanding of a shift in American culture towards more informal gatherings and events. Exteriors and interiors emphasize horizontal lines, like Wright's Prairie homes; this horizontal emphasis would ultimately be very influential in the development and popularity of ranch houses in the 1950s through the 1970s.
Although Wright passed away in 1959, his utopian vision of American architecture, in concert with the homes' thoughtful, timeless layouts and association with one of the most famous American architects of all-time, has made Usonian dwellings some of America's most well-loved and desired residences. However, this also means that when they come on the market, they are often out of reach for Wright's intended middle-class residents. Regardless, their influence on the American home market is undeniable.