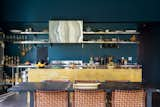 18 Kitchen Gadgets That Will Look Good on Your Countertop
Elevate your home cooking game with these sleek culinary staples.
Whether you're a seasoned home chef or a takeout champ, these helpful kitchen appliances will revamp your midweek meals while keeping your countertop looking its best. Now that's a win-win situation.
Fill up on the Latest in Kitchen Design
Discover inspired kitchens and get design advice for the heart of your home.