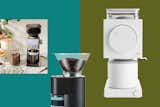 For Flawless Coffee at Home, Get a Burr Grinder
No matter how you do your at-home brew, your coffee beans are deserving of a really good grind.
Blade-style grinders are typically easier to tuck away once you're done with them, but they leave your beans unevenly cut, and your coffee tasting flat or burnt. If you want to easily unlock layers of flavor that would impress even the most imperturbable of coffee snobs, it's gotta be a burr grinder. Grab one of these stylish grinders to start your morning with a perfect cup, every time.
Fill up on the Latest in Kitchen Design
Discover inspired kitchens and get design advice for the heart of your home.