The Smartest Way to Buy Furniture Online
Avoid unwanted surprises and dodge disappointment by following these six easy tips for buying furniture online.
Online furniture shopping is arguably the best way to compare multiple pieces while never having to leave the comfort of your couch. It's a great way to find and purchase items—often at lower prices than found in brick-and-mortar stores—but it's certainly not risk-free. Pieces can arrive smaller or larger than expected, in a different finish or color than anticipated, or the quality can be less than desired—but don't give up hope! There are ways to get around that and still end up a satisfied customer, so long as you follow some key points we've outlined below for buying furniture online.

1. Read Online Reviews
Newsletter
Join the Daily Dose Newsletter
Get carefully curated content filled with inspiring homes from around the world, innovative new products, and the best in modern design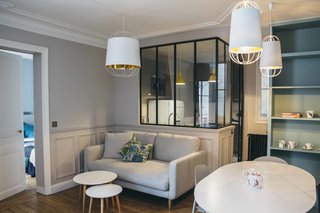 One of the best things about buying furniture online is the ability to read and research as much about the items and the company as possible. It's a good idea to read reviews about specific pieces before buying them, which can help prepare you for the unexpected: colors that differ from the images shown, quality of construction, and even firmness of cushions.
2. Ask For Samples
Many furniture manufacturers offer to send you swatches of fabric or samples of materials before you approve your final order. Although it requires a bit of imagination to visualize what an entire couch might look like from a small 4" x 4" swatch, it can really make or break a purchase! If the manufacturer you're looking at doesn't offer this, try and find as much information about the materials (the species of wood wood and stain used, content of the fabric, etc.) so that you can be as informed as possible.
3. Do a Quick Layout Mock-Up
When you're shopping for furniture in person, it's much easier to get a sense of proportion and dimension than it is when you're looking online. Make sure you lay out the length and width of a piece, especially if it's something large, or an item that needs to fit in a tight space. Consider laying items out on the floor with painter's tape so that you don't damage the floor or leave any residue behind, but still get a sense of the piece's dimensions.
4. Review the Return Policy
Every retailer has a different return policy, and you should make sure you have fully read and understand the policy before completing your purchase. Depending on the website, unexpected costs can arise from restocking fees or return fees, and the window for returns can range from just a few weeks to several months. Don't be afraid to speak to an online representative or send an email before purchasing just to be doubly sure.
5. Don't Rely on Manufacturer Imagery For Accuracy
A beautiful image may be worth a thousand words, but that doesn't mean you shouldn't take the time to carefully read the description of each chair, table, rug, or cabinet before you buy it. Often, the text that accompanies the images will provide information that is otherwise unable to be communicated through a photo—the thickness of a mattress, the way a fabric shimmers in sunlight, even suggestions on how to pair the item with other pieces. Lighting in photography studios is usually different from lighting in most homes, so colors can be off; make sure to specifically read the names of the colors of fabric before adding it to your cart.
6. Remember That Immediate Delivery Isn't Always Possible
One of the biggest surprises people come across when buying furniture online is the unexpected lead time between the purchase order and the delivery. Longer lead times are common when you buy large items like sofas and couches, whether in person or online, but you'll really need to read the fine print before ordering if you're purchasing online, since there's no salesperson to inform you of this beforehand. Lead times can stretch to several months if the item is customized for fabric or shape, so make sure you factor this in when planning a big move or getting rid of old pieces.
Still itching to shop? Find out the best places to buy budget-friendly artwork online.