Now you can add a tiny home or cabin kit to your cart.
You can buy just about anything on Amazon these days, from mundane household necessities to garish novelty items—and now, there are even DIY kits to help you construct your own tiny guest house, shed, office, or lounge. Take a look at the prefabricated units Amazon has to offer below, and get ready to upgrade your backyard.
Ideal as a detached office, garden shed, or yoga studio, this 273-square-foot kit unit from Allwood will run you $10,695. The structure has large windows, a small porch, and a simple, clean design.
Newsletter
Join the Tiny Homes Newsletter
Get carefully curated content filled with inspiring homes from around the world, innovative new products, and the best in modern design
Made out of glulam—an engineered wood product made out of glued, laminated timber—this house kit has a gross area of 1,290 square feet. The home is designed to have three bedrooms and one bathroom, but note that additional materials not included in the kit are required.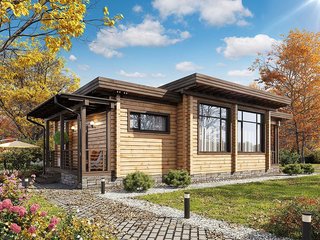 This studio cabin kit from Allwood provides 172 square feet of outdoor and indoor space. The indoor space is well-lit from large windows on two sides, while the partially enclosed portion is covered with a shed roof and has vertical battens on one side to provide shade. The kit sells for $7,250.
Geared toward those with an interest in sustainable design and lowering their carbon footprint, this expandable container house is made out of a galvanized, light steel frame and runs on a solar power system. The home is made in Germany and is available for $24,800.
Timber Frame House Lounge Kit by Ecohousemart

This prefabricated, cabin-like building is made out of a glulam and clad in northern spruce wood. The 1,000-square-foot structure can be customized depending on the type of foundation, windows and doors, or other requirements you might have, but does not come with these items: the kit mainly includes framing elements.
Priced at $18,800, this cabin kit features 292 square feet of space, including a sleeping loft in the taller portion of the gable roof. Because the home has minimal insulation, it would ideally serve as a summer house, home office, or even a stand-alone retail building, but could easily be used as a residence or in colder climates with utility hookups and extra insulation.
This 162-square-foot cabin kit is available for $8,690 and is typically available to ship within three to five weeks. The kit is ideal for a lake or beach house, with large windows and shading on a deep front porch.