Three Styles Meet in This Compact Barcelona Apartment
In the heart of Poblenou, a neighborhood in Barcelona that was once the epicenter of the industry in the 19th century, rising real estate prices mean that homeowners are finding better ways to maximize smaller apartments.
One such apartment is Poblenou in 3 acts. Like a play that unfolds in three scenes, this 807-square-foot apartment is divided into three functional zones that each have their own unique story to tell.
Designed by Barcelona-based studio Egue y Seta, the space is sectioned into a kitchen and dining area, a living room and a bedroom with an ensuite bathroom.
Sections of the floor are laid with Futurcret micro-concrete. The micro-concrete sections act as borders between the zones, separating the Anticato PCV oak laminate floor in the living area from the tiled floor of the kitchen.

The kitchen, which very much feels like the heart of the apartment, is the opening act. Geometric patterned hydraulic imitation tiles from Portuguese brand Recer in gray, mustard and white are used for the floor, the splashback, and for a feature wall that's lined with tall green plants for a tropical "jungle" effect.
A custom-made wooden dining table and kitchen counters add much warmth to this act, while matte black cabinetry with a built-in oven, and blue Ikea stools and pendant lamps give the kitchen a charming, bistro-like charm.
The second act is the living area where concrete walls combine with a floor and recessed wall of oak laminate and a black entertainment console and black custom-made shelves.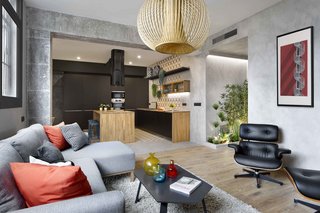 A Vivonia sofa and coffee table, B&B Italia shag rug by Sukhi, and Eames lounge chair and ottoman set the stage for cozy lounging and television watching.
Micro-concrete and Anticato PCV oak laminate is also used in the third act – the bedroom, which has a recessed wall composed of micro-concrete on the top half and oak laminate on the lower half, creating the illusion of a wooden headboard.
Discreet black shelf units are built into the walls, and simple and affordable furniture and accessories like an Ikea bed, cushions and a pouf from Zara home and a yellow Maison du Monde side table, allow the wonderful textures of the concrete and faux wood to shine.