This Futuristic Prefab in Spain Has All the High-Tech Gizmos of a Spaceship
A sci-fi-inspired prefab with an efficient edge is grounded in real-world technology.
A UFO has landed in La Moraleja, a leafy enclave on the outskirts of Madrid. Passersby may assume it's a folly put up by one of the neighborhood's well-heeled residents for their kids, but this retro-futuristic structure is a functioning home for adults. It brings together sustainable building design, smart home technology, and the vision of its owner, a die-hard science-fiction fan. 
Newsletter
Join the Prefab Homes Mailing List
Get carefully curated content filled with inspiring homes from around the world, innovative new products, and the best in modern design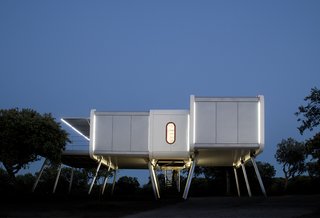 NOEM, a young, Barcelona-based design-build firm, conceived the Spaceship House. Specializing in passive housing fitted with varying degrees of smart technology, NOEM designs houses in modules, made from Pyrenean pinewood in local factories and put together on-site, a process that can take as little as six weeks from start to finish. The architects use BIM (building information modeling) software, which leaves virtually no room for construction errors—vital for the correct functioning of the hardware the owner chooses to install. Even if they do not, NOEM claims that by making the modules completely airtight, wrapping them in a nearly 10-inch-thick layer of wool insulation, and installing a heat-recovery ventilation system, the houses consume 75 percent less energy than a traditional structure of the same dimensions. While the owner of the Spaceship House was attracted to NOEM's use of technology and commitment to sustainability, he also had quite a few aesthetic demands. "He basically told us he wanted a mother ship," says Pol Guiu, cofounder of NOEM. 
The Spaceship House is made up of three polished metal-clad modules. One contains the bedroom-studio; one the living area; and another holds the kitchen, bathroom, and "hub"—the impressive nerve center of the home with its sleek, violet control panel. At the touch of two built-in iPads (or his own smartphone), the owner can manipulate water and air temperature, heating and cooling, electricity consumption, illumination, security devices, and blinds, as well as read a real-time picture of the night sky. "We used available technology and made an open-hardware interface that integrates the whole thing," Guiu says. "We always use standard protocols that are readily available, so that the home automation system can be added to and altered in the future by the users. It's a type of hacking—but with a deeper philosophy." NOEM worked with a firm called Eco High Tech to specify the products and hardware, and with Securalis, a French company, to test the system's security.
The architects studied real spaceships to fine-tune the concept. Visual cues from sci-fi culture provided details such as signage executed in the Star Wars font, blinking LED tubes fitted into the seams of the exterior, and the hub's on-off master switch identified by the name HAL. 
Reassuringly, one of the Spaceship House's most distinctive features plays to the natural world. The owner wished to take full advantage of the plot's verdant views, so it's raised about 12 feet above the ground, an exact measurement that is also optimal for viewing air traffic at Madrid's Barajas airport from the terrace. "Elevating the home also gives the impression that the structure has 'just landed,'" Guiu says. "And that it could get up and 'walk' away at any moment. But we needed the whole thing to have consistency, so we had to think hard about the staircase. How does one ascend a spaceship?" 
The architects settled on an airplane staircase from a defunct airline company. Problem solved. Then another one arose: How does one enter a spaceship? NOEM found a door from an Italian yacht maker. It slides open via sensory recognition as the owner ascends the staircase. 
With its futuristic design and high level of gadgetry, the Spaceship House has been NOEM's most challenging and idiosyncratic project to date. Yet they claim their clients are generally defined by the creed "Less is more." "They don't want an 'object,'" says Rosa Vilarasau, NOEM's second cofounder. "Maybe they are a bit geeky, but they want technology to serve them, not the other way around. We always take a lot of time discussing with them how far they want to go. We want them to be in control."