This Endless Playscape Is Complete with a Bamboo Forest and Trampoline
A pleasure garden in northern California is rich in whimsical surprises.
Some gardens are verdant retreats, inviting serenity by looking inward, this landscape in the hills of Tiburon, California (about 20 minutes north of San Francisco), takes a slightly different approach. While there are any number of cultivated places to stroll, perch, and succumb to nature's embrace, the wider, wilder world is not shunned but welcomed to engage in a kind of call-and-response with the domestic landscape. Similarly, children are invited—by design—to walk, run, roll, jump, and climb all over.
Newsletter
Join the Daily Dose Mailing List
Get carefully curated content filled with inspiring homes from around the world, innovative new products, and the best in modern design
When James Lord and Roderick Wyllie, founders of the San Francisco–based landscape architecture firm Surfacedesign, Inc., first met with Stuart and Gina Peterson to discuss their home, the two guiding words were "art" and "kids." In addition to being ardent collectors of the former, the Petersons, who have three children now, had a toddler and a kindergartner. "From the start, the garden was intended to be a place for their kids to explore," recalls Wyllie. "But it also had to relate to their art—in a more subliminal way—by sharing the kind of playful and thoughtful qualities as the paintings they are drawn to."
Wyllie and Lord (whose practice includes residential and public projects that range from a war memorial in Auckland to a master plan for the Smithsonian gardens), were given free rein, with just a few caveats. "We wanted to honor the modernist aesthetic of the house, but we also liked aspects of the typical English garden—those grand outdoor rooms that offer a variety of experiences," says Gina. So as the designers sought to connect the grounds with both the house and its surroundings, they looked for ways to choreograph moments along the way, "framing views, creating places to pause, and all that 'English landscape typology' stuff," says Wyllie. The result is a distinctly Californian take on the British vernacular, with a series of garden rooms that guide one along the house and out to the borders, where the cultivated turns native and the controlled views give way to vistas of the Marin hills and San Francisco Bay.
The journey embarks at the entrance garden, a grassland sea of magnolia trees, which are obligingly in full bloom on a mild day in early March. Next to the front entrance, an industrial glass-and-steel garage door rolls up to reveal the dining room (as does a companion door on the other side of the house). Riffing on the Californian dream of blurring the boundaries between inside and out, Lord and Wyllie designed an ipe deck that extends the house's wooden flooring, then hops across the cobbled path to continue up into the trees, its form becomingly increasingly faceted to reflect the surrounding topography. Equipped with ropes, the sloping deck is a climbing wall for scaling up and rappelling (or sliding) back down.
Hugging the southern side of the house, the entry path narrows and transitions into a shade garden, lined on both sides by dense stands of bamboo and Japanese maples. Staggered concrete pavers lead to a tucked-in fern garden and then continue to a clearing, where the gaze is directed out toward an abstract sculpture perched in a bed of native grasses and plum trees—art as garden ornament. "Once you arrive here," says Wyllie, "you're opened up to the larger, regional landscape, which is amplified by these three massive live oak trees that we found on site." Planted on the same plane as the sculpture is a softened version of a knot garden—that formal English garden staple—whose geometries are interpreted through perennials such as lavender and salvia.
Just past the house, the landscape opens up to a playscape, to use a term coined by architect Richard Dattner, father of the American adventure playground and an early champion of letting children choreograph their own amusement. A large swathe of kid-friendly lawn has been sculpted into an amphitheater, with stone steps (salvaged remnants from the 1906 earthquake) doubling as seating during impromptu performances. Just below, a series of large grassy mounds echo the California hills in the distance, which—thanks to El Niño—are similarly green. Jump Mound contains a trampoline, while Rabbit Hole Hill has a place for dropping in balls that pop out randomly below, much to the delight of the family dog. "The Hobbit House is the fifth mound," says Wyllie, "although the materials are quite different." A large concrete pipe allows a child to crawl into the structure, with a domed roof shaped from slats of maritime-grade plywood. And just down the slope, a chicken coop has perhaps the most enviable views in the poultry world.
The northern side of the house is bordered by a hedge garden—its zigs and zags follow the rhythm of the windows. This garden leads to a domestic zone, with a table for alfresco dining and a more traditional play structure, about which Wyllie and Lord were not wildly enthusiastic: "We're more about creating a fun landscape with open-ended kinds of play," says Lord.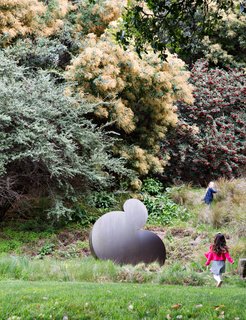 Gina confirms that more often than not, the kids take to the lawn. "They are more excited by creating games, running around with balls and Nerf guns, and setting scenes where they use the mounds as barricades or invent other worlds," she says. "It's a more personal playground—and out here, you never run out of things to do."