This Compact Apartment in NYC Is Full of Crafty Solutions
A transforming apartment in New York offers ingenious solutions for making the most of limited square footage.
When it comes to living space, Russian architect Peter Kostelov knows how to spin straw into gold. "New York is one of the more densely populated cities," he says. "It's an island; it cannot expand. There can only be transformation."

Newsletter
Join the Renovations Mailing List
Get carefully curated content filled with inspiring homes from around the world, innovative new products, and the best in modern design
Peter, who has won awards for his modernist residential designs in Russia, and his wife, Olia Feshina, an artist and fashion designer, moved from Moscow to Manhattan in 2013. "We wanted to work in New York," Peter says. The couple owned an apartment in Harlem near the Bernard and Anne Spitzer School of Architecture, where Peter is studying, before they purchased an apartment in a 1920 brick building farther north in Washington Heights.
The apartment featured two bedrooms, but two were not enough. "We each need an office with a door," says Olia, who's currently focusing on painting and studying English. "It's an important thing to be alone with your thoughts and your work."
So Peter gutted the space—leaving the red brick interior shell and wood beams intact—and transformed the 700-square-foot, two-bedroom apartment into a flexible residence with three bedrooms, one of which doubles as an office for him, and a second that also functions as a studio for Olia. "I've always been involved with multifunctional and transformable space," Peter says. "We have to sacrifice old ideas and rethink living standards." He also designed a new spacious living area, a kitchen, and a bathroom that includes a laundry area.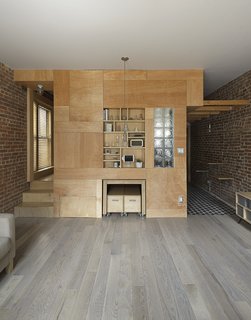 "We have to sacrifice old ideas and rethink living standards." Peter Kostelov, resident and architectural designer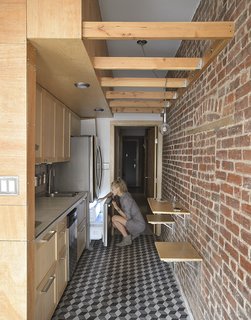 Peter rearranged and added rooms but maintained the railroad-style layout of the apartment. "I moved the living/dining room from the middle to the east side, which faces the street with two big windows," says Peter, who wanted the sunlight. He relocated the master bedroom, which previously existed where the new living/dining room is located, to the opposite, or west side, of the apartment. "I didn't want the street noise to bother us while we're sleeping," he says. Olia's studio, Peter's office, and the bathroom are bookended by the living/dining room and the master bedroom.
When guests enter, they're at one end of a long red-brick-lined hallway that runs the length of the apartment and accesses each of the rooms. The kitchen is located in a section of the corridor. Visitors marvel at its open-plan design and the way it flows into and borrows natural light from the living/dining room.
But however engaging the kitchen's fluidity is, the Swiss Army knife–like ability of each room is the most captivating element of Peter's design. A dining table on wheels pulls out of the volume that separates the living/dining room from the kitchen and Peter's office. It can be pulled out to seat 12. A pair of benches that double as storage compartments fit underneath the table and also roll out. "When the table is stored away, it's a large living room," Peter says. "But when we pull it out, the room transforms into a dining area. The two of us can sit and have coffee or we can have a big party with all our friends. It's so convenient."
Peter raised his office to accommodate the height of the dining table. "The table is stored underneath the office floor," he says. "I walk up stairs to enter into my office." The stairs are a tool Peter used to provide the feeling of escape. "They make you feel like you're going somewhere," he says.

To move to New York and purchase the Washington Heights apartment, Peter and Olia sold the home Peter designed for them in Moscow. The exterior siding of that structure— featured in William Hall's Wood, published by Phaidon—displays wood panels arranged in a patchwork pattern that give the building a distinctive appearance. Peter used the same approach for the plywood walls he created in the New York apartment.

"It's a pretty complicated design," he says. "The panels allow me to cut smaller pieces that fit together with all the angles that the storage creates," he says. "They allow me to make mistakes and work as I go. I can cut a piece differently and make it fit without having to buy a new sheet of wood." Peter numbered each of the plywood panels and applied them like a puzzle—with the help of his carpenter father Vladimir Kostelov. "My father flew here from Moscow and helped me build this," he says. "I don't know what I would have done without him."
To create the dining room table, Peter used only one four-by-eight-foot sheet of plywood. "I love plywood, because it's an honest, natural material," he says. "But it was also very important to think about cost and efficiency. As an architect, I study sustainability. If you're smart, you can figure out how not to waste material. Architecture today is different. Now, you have to think more than ever before. You have to be very efficient."
"If you're smart, you can figure out how not to waste material." Peter Kostelov