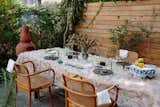 The Year I Learned to Love a Tablescape
Setting the table is now a necessity and I like it that way.
A few years ago, an editor assigned me an article about throwing weeknight dinner parties. My wildly helpful approach was to suggest doing everything possible the days before the event. I haven't thrown a weeknight dinner party in recent memory, but even though I'll have an entire Saturday or Sunday to dick around and prepare, there is one piece of my own advice I take. I can't help myself: I must set the table as soon as reasonably possible.

In the past year, it's the thing I look forward to the most about hosting (except for seeing all my beautiful friends' faces and listening to their smart thoughts, of course, of course, that's why we do anything on this earth). While I love cooking, it doesn't fill me with the same giddy feeling as setting the table. One doesn't want too much whimsy, glamor, clutter, or comedy in their meals. But a tablescape, as this non-word suggests, should be made up! A bowl full of osage oranges I picked up on various dog walks are an ode to the inedible. I get out all the oddly shaped plates, the pretty and too-small glasses. I deploy funny figurines, about which I will drape extra napkins.
Setting a table is a mad lib: you must stick to the necessary categories, but it's the most fun when you go wild within the structure. There can be a theme like Monochromatic or Gilded Age Matriarch or "King Midas" or psychedelia. (That last one involves using a bedsheet as a tablecloth; I am not taking feedback about that, though thank you for your concern.) Arty Parties by Julia Sherman is an inspiration. Though I've never followed her advice to drill holes into the middle of a stale loaf of bread and use it as a candelabra, I think about this every week, and spiritually, I'm there.
An eye towards "setting the table" has also changed the way I read cookbooks. Especially if you're nosy about homes and how people live—which I know you are, that's why we're all here—table settings are a rich source of both inspiration and judgment. (A recent discovery in the latter category is this kinda bananas upper-crust party cookbook from 2000 called R.S.V.P., by New York society hostess Nan Kempner. If you read it, please tell me, and we can share our most problematic faves.)
I wish I could say I set the table for just me and it's a meditative act and a sign I love my own company. I definitely don't do that. If it's just me, I must be a couch boy with a dish cloth as a napkin, like an animal. But, if the timing is right, I love to set the table when my partner makes dinner. It feels like it's respectful to the meal they cooked, even if it's a scrappy pantry melange.
Just like getting dressed, setting the table is really most fun when you've got the added pressure to show it off. Classically, one of my all-time favorite hobbies is "getting ready for a party": picking outfits and throwing others on the floor and selecting blue for my eyeliner. I realize that setting the table is just getting the house dressed up for a party too. It's languid, it's creative, it's aesthetic and surface-level and hopefully it will be an investment in future compliments from the people you like the most.
Photo by Brian W. Ferry also appears in Take a Trip to the Dacha With Civilian Projects' Nicko Elliott and Ksenia Kagner

Gather round:
Made in America: The Table's All Set
Get the Shop Newsletter
Smart shopping for the design obsessed. Find what you love in our expertly curated selection of finely crafted home, office, travel, and lifestyle products.