Shipping containers are ubiquitous in Houston, though unlike the four that make up this new home, they're usually filled with foreign goods rather than flourishing lives.
Downtown Houston, Texas, feels like a ghost town. Buildings with tinted windows loom heavily and cast dark shadows on the abandoned sidewalks. Residents rarely spend time here, and when they do, you would hardly know it: 6.3 miles of tunnels connect more than 80 city buildings, pushing pedestrians underground and away from the heat, the humidity, and the possibility of a dynamic urban lifestyle.
Newsletter
Join the Daily Dose Mailing List
Get carefully curated content filled with inspiring homes from around the world, innovative new products, and the best in modern design
Nichols and Walker met in 2004 at Burning Man, a weeklong art bacchanalia in the Nevada desert, and forged a friendship over like-minded design dreams: "We both wanted to create affordable, design-intensive housing for creative, urban people,"Nichols says. In 2006, they founded Numen Development to do just that with affordable, easily acquired, incredibly durable shipping containers.
Though containers are part of Houston's vernacular, Nichols and Walker knew the idea of living in one was not. Thus, their first order of business was to build a prototype home. In a transitional neighborhood two miles north of downtown Houston, they found a pair of available lots, empty save an abandoned speedboat rusting on the lawn. The properties were across the street from a meat distributor, which could have meant an uphill battle for winning over potential residents, but the location also provided access to Houston Heights, a hip part of town where neighbors chat over espresso at coffee shops and hang out with their kids in nearby parks.
Nichols and Walker signed the property deed and enlisted Christopher Robertson as the designer. Robertson's previous work included art galleries, darkrooms, and private homes, but never anything with containers. "I've always liked them for their texture and durability," Robertson says. "The challenge was to build a legitimately sellable container house by making it feel like a typical home."
With the plans completed and the building permit in hand, Nichols and Walker were ready to lay the foundation of the home and cement their status as a container construction company when, two weeks before they were scheduled to break ground, their investor pulled out. Desperate, Nichols emailed everyone she knew looking for a new financial backer. She received a reply asking for details not only about investing but also about moving in.
The bailout message came from the "F-man(n)s"—Kevin Freeman and Jen Feldmann, whom Nichols befriended in 2003. Freeman and Feldmann had met at Indiana University, when he was studying to become a dentist; she, a doctor. The dental and medical schools shared an anatomy lab, and Freeman and Feldmann shared a tendency for running late—which left them working at adjacent tables. "We fell in love over cadavers," Freeman jokes.
The couple moved to Houston in 1997 for Feldmann's residency, and, like so many of the city's residents, their intended temporary status soon became permanent. "Houston's not full of obvious natural beauty," Freeman says, "but it has a lot of hidden charms," like the close-knit art and music communities. When Nichols's email arrived in Feldmann's inbox, the couple and their then-one-year-old son, Eli, were living in a neighborhood too far away from friends and venues to meet up for a last-minute dinner or catch a show. "Where we were living, there was nothing to do that was within walking or biking distance," Freeman says. "You couldn't even bike to breakfast!" Feldmann exclaims.
Nichols's plea for help led the couple to the solution they were looking for. Freeman and Feldmann took out a construction loan in the fall of 2007 and were moved in by April 2008. Although they traded a house with seven closets and a two-car garage for one with just two closets and no garage, they were happy to finance their friends' dream and have access to a vibrant neighborhood.
Now Freeman and Feldmann walk to the doughnut and snow-cone shops down the street and rave about the breakfast-burrito joint around the corner. They ride their bikes, which total nine (including a tandem), to meet friends and take Eli and their two dogs, Arnold and Ruti, to play at the numerous parks that dot the area. The meat distributor begins loading trucks as early as 5:30 a.m., but the couple imagines themselves as hipsters living in New York City's meatpacking district, and that makes it okay.
Though people sometimes stop to look at the house, the clever use of containers often goes unnoticed. Feldmann, however, loves pushing aside the landscaping to reveal the integrity of the structures. She also takes full advantage of their metallic qualities: "When we were furnishing the house, I thought, 'Oh, no! Our fridge isn't magnetic for Eli's artwork,' but then I realized the whole house is magnetic," Feldmann says. "We've become magnet connoisseurs," Freeman adds. Perhaps the greatest reminders of the home's origins are the messages written throughout the house in magnetic letters.
The couple has thought about one day adding on a container for when Eli gets older or they have another child. But what they really have their hearts set on is acquiring the land across the street—which the meat distributor has hinted at putting on the market—and building condominiums and an attached restaurant, all made from containers.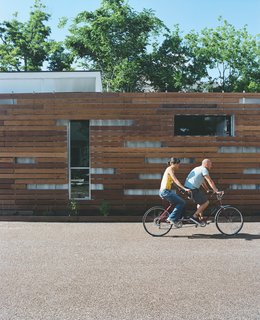 Even if neither of those dreams comes to fruition, there will be more containers on the block: Nichols and Walker are both building their own homes on the lot adjacent to Freeman and Feldmann's. Nichols's is a single raised 45-foot container, and Walker's is an integrated three-container design much like the couple's.
The future of container construction, however, is still unclear. These architectural building blocks are readily available and relatively inexpensive: Containers can be purchased for anywhere from $2,000 for a weathered model to $5,500 for a lightly used one. But in Houston, as elsewhere, the biggest challenge lies in the building codes, which help maintain the status quo by resisting radical change.
As more designers push container architecture from fad to legitimate building system, it's possible that one day they will be seen not only as units for shipping but also as containers for living.