The Nonprofit That's Using Seat Belts and Super Bowl Banners to Fix Up Indianapolis
People for Urban Progress upcycles cast-off urban hardware back into the community.
The detritus of industrialization is forming the building blocks of renewal in Indianapolis, thanks to People for Urban Progress (PUP), a nonprofit that repurposes everything from arena seats to parking meters for municipal improvements. "We're using the existing fabric of the city to showcase smarter urban design," explains chief innovator Michael Bricker.
Newsletter
Join the Daily Dose Mailing List
Get carefully curated content filled with inspiring homes from around the world, innovative new products, and the best in modern design
In 2008, Bricker helped organize PUP to address a looming problem: What to do with 200 tons of roofing fabric from the decommissioned RCA Dome after the Indianapolis Colts decamped for a new stadium? "We wanted the material back out in the community," Bricker says, "because we view it as a public resource."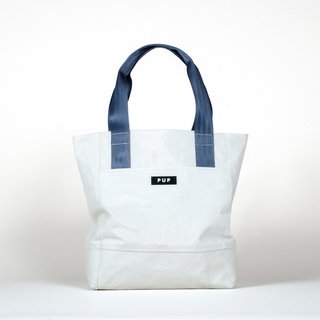 Agreeing to cart it themselves, Bricker's team salvaged most of the Dome's Teflon-coated fiberglass and acoustical fabric—13 acres in all—for local designers to stitch into totes, handbags, wallets, and more.
The first 1,000 wearables generated almost $70,000 in sales, revenue that has allowed PUP to take on bigger projects, like bus stops and shade shelters, also made of discarded materials like Super Bowl banners and used seat belts. These initiatives restore civic resources and pride in equal measure, sending a message of self-affirmation, says Bricker: "We are a city, and our public spaces are important."