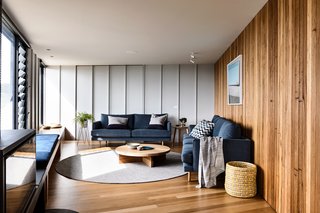 An '80s Beach House in Australia Goes From "Blah" to Beautiful
Figureground Architecture expands and reconfigures a defunct beach house in Sorrento, weaving together a medley of wood finishes.
There was much to lament about this 1984 beach house on the Morningside Peninsula in Victoria, starting with the dilapidated finishes and dysfunctional layout, and ending with the gray, split-face block facade that the homeowners dubbed the "toilet block."

Enter Figureground Architecture for a fix. The firm made strategic interventions to lightly expand the home, reconfigure the interior, and knit it all together with a more refined material palette. "The challenge was to find a way to both reorganize space and a create a coherent and seamless language within the constraints of an idiosyncratic existing building structure," the architects say.
Shop the Look
Get the Renovations Newsletter
From warehouse conversions to rehabbed midcentury gems, to expert advice and budget breakdowns, the renovation newsletter serves up the inspiration you need to tackle your next project.