View Photos
A Tiny Florence Flat Is Reborn as an Architect's Live/Work Space
An architect revamps a 1970s Florence apartment, turning it into her chic, functional home and office.
When architect Silvia Allori found a 452-square-foot flat designed by Italian architect and furniture designer Roberto Monsani, she fell in love with it and immediately snapped it up. Located in the city's Oltrarno district, the property's small size did not deter Allori from renovating the space into both her home and office.
Get the Renovations Newsletter
Get carefully curated content filled with inspiring homes from around the world, innovative new products, and the best in modern design.
Monsani had designed the house with interior walls of white laminate panels. To maximize space, Allori—who was a partner at Italian food-design studio Arabeschi di Latte before establishing her own creative consultancy and interior styling studio in 2014—cleverly integrated furniture and storage into these walls.

Hidden within walls of white laminate, furniture items fold down so they can be easily stowed away when they aren't in use, creating a streamlined space that is ideal for work and discussions with clients.

Concealed within the white laminate wall is a foldout table, lights, cabinets and unsightly electrical or plumbing infrastructure. "The cabinets and the table disappear within the laminated niches," explains Allori.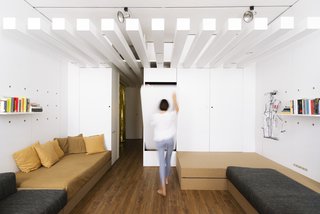 Project Credits
-Interior design: Silvia Allori
-Architecture: Roberto Monsani