View Photos
Get a Designer Kitchen on an IKEA Budget With Reform's New Fronts and Tops
Muller Van Severen, Studio David Thulstrup, and Note Design Studio lend their talents to create captivating new cabinet fronts and countertops for your IKEA kitchen.
Your IKEA kitchen doesn't need to be basic. Reform, a Copenhagen–based company founded in 2014 by Jeppe Christensen and Michael Anderson, offers architect-designed fronts and countertops to give your kitchen a chic, affordable upgrade. "We are here to challenge the traditional kitchen industry," say Christensen and Anderson. Reform collaborates with some of the biggest names in Scandinavian architecture and design, including Bjarke Ingels Group, Norm Architects, Sigurd Larsen, and Cecilie Manz.
Now, timed to coincide with International Contemporary Furniture Fair (ICFF) in New York and 3daysofdesign in Copenhagen, Reform is launching three new collections. Muller Van Severen, Studio David Thulstrup, and Note Design Studio are bringing their acclaimed talents to Reform's offerings.
Muller Van Severen
Ghent–based duo Fien Muller and Hannes Van Severen form Muller Van Severen, are a design firm known for being at the intersection of art and design. Their new kitchen design for Reform, called MATCH, makes use of unconventional elements such as their signature material, the durable and wax-like HDPE, traditionally used in cutting boards. The duo playfully pairs the bright panels with classic features like brass handles and a marble countertop to create a bold, graphic look.
Newsletter
Join the Kitchen Newsletter
Get carefully curated content filled with inspiring homes from around the world, innovative new products, and the best in modern design
Studio David Thulstrup
Copenhagen–based Studio David Thulstrup's series highlights materials and textures for kitchen options that are both classic and full of personality. "It's about how the materials come to life," explains Thulstrup. The collection is called PLATE, which is a reference to how the designer "plated" the solid, interior core material with different exterior materials as though making a sandwich. The result is a variety of elegant looks that include a rich, dark wood; a matte, industrial brushed aluminum and stainless steel; and a classic white option.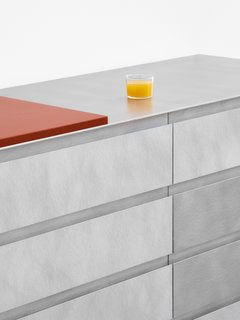 Note Design Studio

Multidisciplinary, forward-thinking, Stockholm–based Note Design Studio blends traditional, Scandinavian elements with a functional, human-centered approach in FRAME. "Our ambition was to create a kitchen that felt like something we could actually use ourselves," explain the designers. "There is so much going on in the kitchen—we wanted to keep the backdrop simple, elegant, and easy on the eye."