View Photos
14 Red-Hot Homes With Striking Scarlet Exteriors
These fiery facades aren't for the faint of heart.
From eye-catching crimson to sizzling scarlet, these red exteriors prove that bold is beautiful.
Newsletter
Join the Daily Dose Newsletter
Get carefully curated content filled with inspiring homes from around the world, innovative new products, and the best in modern design
Not long ago, a real estate developer approached Moskow Linn Architects of Boston with a challenge: Could they design a teardown remodel of a 1950s ranch-style house in Cambridge, Massachusetts, following standards set by the Passivhaus Institut? The firm's principals, Robert Linn and Keith Moskow, responded by designing a modern, 2,959-square-foot house, preserving the existing foundation and first-floor framing. The house, which was completed in 2013, sits on an elevated embankment, and is oriented to capture views of the adjacent Fresh Pond Reservation and the Boston skyline beyond. While the Red House, as it is known, ultimately did not meet the standards for Passivhaus certification, it is a highly efficient and inviting home for its residents.
It was a dark and stormy night when architect Guillermo Acuña first glimpsed a narrow strip of land while looking for a place to dock his sailboat in Chile's Chiloé Archipelago. When he got a closer look the next morning, he was intrigued by the changing landscape and its location on the Bay of Rilán, in the country's southern region. Architect Guillermo Acuña's sprawling getaway lines the coast of Isla Lebe in the Chiloé Archipelago in Chile. He developed it in stages, first building a boathouse with a modest living space, then adding two cabins and later remodeling the boathouse. An avid sailor, he often sets out to explore the nearby fjords. The archipelago is midway between Santiago and Tierra del Fuego and comprises more than 30 islands and islets.
Six earth-colored, metal-clad pavilions are combined to create Tin House, an innovative and voluminous house that boasts a secluded rectangular pool in a bright interior courtyard. Designed by London practice Henning Stummel Architects, the facades and pyramid-top roofs of the six interconnected pavilions were constructed with GreenCoat PLX BT steel that was painted fire-engine red. The reflection of the light from the pool against the surface of the red steel accentuates the structure's monolithic, utilitarian character.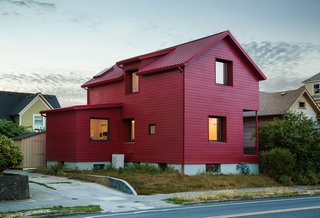 Built in 1910, this proudly monochromatic home in Southeast Portland, Oregon, opens to reveal a contemporary, book-filled interior. Two-foot-deep windowsills were carved out of the facade to augment the home's sculptural profile. Waechter Architecture designed each floor around a primary room, like the open-plan kitchen, with supporting spaces spread out around it.
David Sarti's little red house in Seattle's sleepy Central District proves that a bit of land, ambition, and carpentry know-how can go a long way. Though the challenges of hand-building his first house on a small lot with a very modest budget are patent, the 35-year-old Sarti took it all in stride. For the past five years Sarti has worked as a project designer with Environmental Works/Community Design Center, a nonprofit architectural firm that builds projects for the low-income community and other nonprofit groups whose needs traditionally outweigh their resources. "Once I started the house, I realized how much my job had prepared me," Sarti admits. "Limited budget, limited space, density issues-I've dealt with all those things before."
In the frigid, remote Russian town of Kandalaksha, Moscow–based BIO Architects have recently achieved an impressive architectural feat with the construction of their latest self-sufficient prefabricated shelter. Built to sleep eight, the striking 345-square-foot prefab is the latest example of DublDom, the firm's series of modular homes that are affordable, customizable, and engineered with precision. Now, DublDom in Kandalaksha is open to the public to rent. The price ranges between $15 and $65 depending on the number of people booked.
A masterful extension of the desert landscape in Scottsdale, Taliesin West is a living memorial to the inspiring life and work of Frank Lloyd Wright. Built in 1937, Taliesin West was an experiment in desert living that evolved at the hands of master architect Frank Lloyd Wright and his apprentices until he passed in 1959. Conceptualized as a refuge from the harsh winters of the Midwest, the complex—which grew to include a drafting studio, dining facilities, three theaters, a workshop, Wright's office and private living quarters, and apprentice and staff residences—takes direct inspiration from the arid landscape. Over the years, Wright continually rethought previous design solutions and rebuilt sections of Taliesin West with the assistance of his apprentices.
According to architect Jiwon Baik of Seoul-based multidisciplinary studio URBANTAINER, containers are cheaper to mass-produce than concrete structures. Plus, they can be removed and reused, making them a much more sustainable mode of architecture. Baik, who has worked on a handful of remarkable shipping container projects—such as Common Ground and the National Theatre Company of Korea—says that compared to reinforced concrete construction, container modular architecture reduces carbon emissions by 60 percent, costs by 50-percent less, and requires 30-percent less time to build. His colleague, interior designer Younjin Jeong, believes that container architecture also solves some of the economic challenges faced by retailers and hospitality operators. "Modular container structures are mobile, so tenants don't need to buy the land—they just rent it—and after their lease ends, they can deconstruct the structure and build it again on a new site," she says.
Immediately striking for its scarlet hue, this 936-square-foot home by Santiago–based Felipe Assadi Arquitectos takes the form of a solid cube with part of its mass subtracted to create a double-height entrance terrace and a sloping roof. The symmetry of the design allows for the incorporation of additional programs to the sides of the modules on both the lower or upper floors.
Taking a down-to-earth, locavore approach to architecture, the firm McLeod Kredell brings modernism to the traditional region of New England. Based in Vermont, Steve Kredell and John McLeod of the firm McLeod Kredell work in the classroom as well as the studio, combining their practice with professorships. They consult the land and local building traditions, constructing work that is, at once, modern and bucolic, incorporating the past and present of spaces in structures. Through modern, local design and construction, they seek to capture the ever-evolving identity of a place.
This simple red house in Portugal appears as a signpost within its labyrinth-like, forested site. Acclaimed for his organic Eco and Snake Houses in Portugal's Pedras Salgadas Park, Lisbon–based architect Luis Rebelo de Andrade has added another recent project to his remarkable portfolio. Known as House 3000, this striking, fire-engine red home is unmissable amidst the dark green trees in its woodland site in Herdade da Considerad. Located on over 1,000 acres of arid land dotted with cork oaks and umbrella pines, the stunning house has been inspired by the unity of the landscape, where everything looks similar from all directions.
In Mexico City's increasingly crowded and vibrant design scene, Michel Rojkind and Gerardo Salinas stand apart. Rojkind Arquitectos—the firm Rojking founded in 2002 and has run since 2010 alongside Salinas—has managed to impose a sense of order in pockets of the famously crowded and cacophonous Mexican capital. Many of the whimsical, boldly colorful structures that have become the firm's stock-in-trade include touches—a park, for instance, or an interactive facade—intended to make up for a lack of public space or to promote street life. This philosophy has its roots in a commission that the firm took on in 2007 for Nestlé. The Swiss company had asked for a tunnel to carry visiting schoolchildren inside its chocolate factory near Toluca, about 39 miles southwest of Mexico City, to give them a view of its production process. Rojkind was surprised to find that there was no museum dedicated to chocolate in Mexico—an almost absurd oversight given that the Aztecs once used cacao beans as a form of currency. He sold Nestlé on the idea of a gallery space, and the resulting red-and-white building—its angular form inspired by Japanese origami and the colorful Mexican wood carvings known as alebrijes—is now a popular destination for school groups and families.
On the island of San Miguel in Portugal's Azores archipelago, a vibrant home wraps around a massive linden tree. Designed by Portuguese architect Pedro Maurício Borges, Casa Quinta da Tília is 3,148-square-foot family residence that consists of two volumes unfolding in opposite directions. The volume on the northeastern side of the plot is positioned parallel to the property's stone wall border, while the volume to the southeast is bent at an angle, and set some distance away from the wall. The two parts are connected by a wide, open-air, stone-paved corridor with a saltbox roof shelter.
Unlike its next-door neighbor, R-House, TED wasn't originally planned to meet the exacting Passive House standard. Onion Flats initially won on the basis of its relatively straightforward proposal for a two-bedroom house with a three-story interior atrium. The building's green bona fides came largely from four roof-mounted thermal solar panels and a 120-gallon water storage tank that Tim McDonald, a partner at the firm, says would have met nearly all of the home's heat and hot-water needs.
Related Reading: Red, Red, and More Red! 20 Bold Interiors That Make a Statement