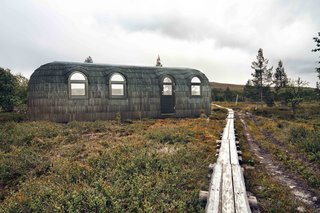 These Spellbinding, Handcrafted Saunas and Cabins Start at Less Than $10K
Handcrafted according to centuries-old technique, Estonian company Iglucraft's shingled saunas and cabins are straight out of a fairy tale.
With their rounded, organic silhouettes and shingled shells, the huts and saunas crafted by Estonia-based Iglucraft look like something out of a fairy tale. The made-to-order structures, available in a range of sizes and finishes, marry a 200-plus-year-old building style with modern conveniences. The result is a captivating mix of practical, Nordic design with old-world whimsy.
"We started out building a single sauna that we felt the market was missing," says Priit Kallas, CEO of Iglucraft. "Not only does the round shape stand out visually, it also provides a better steaming experience." The company has found itself popular with customers across Europe who agree, including soccer star David Beckham.
"Everyone who has been in a sauna knows how steam can sometimes kick you in the back while bouncing off the walls and corners," says Kallas. "Due to the Iglusaunas' round shape, steam travels up toward the ceiling and softly floats back down. It feels like you are wrapped in the steam." Now the company aspires to expand the distinct design to cabins that can be used as guest houses or weekend retreats.
"We do not see our products simply as buildings," says Kallas. "We look for clients who share the same values and mindset. The huts and saunas really are handcrafted; we do not utilize heavy machinery during the production."
Shop the Look
While the company markets five main Igluhut styles and three Iglusaunas, their team also collaborates on custom projects—in fact, they've just finished a 25-person sauna. Igluhuts start at approximately €20,ooo and the saunas at €8,900, exclusive of VAT and delivery or installation. Keep scrolling to check out the interiors and see some of these huts and saunas in the wild.
With an undeniable, Instagram-ready appeal, the company's products have made their way to many alluring locales—from riverside docks and backyard gardens, to secluded forest getaways and sublime waterfront perches.

Get the Tiny Homes Newsletter
Get carefully curated content filled with inspiring homes from around the world, innovative new products, and the best in modern design.