This Oregon Company Crafts Exceptional Tiny Homes Starting at $40K
Hunkered down during a week-long snow storm, three couples hatch a plan to build purposefully designed and expertly crafted tiny homes under the moniker Tiny Heirloom.
In early 2014, Portland, Oregon–based brothers Jason and Zach Francis were building traditional, stick-and-brick homes while their brother-in-law Tyson Spiess, who was at a career crossroads, had developed an obsession with tiny homes. The three young men got together and decided to embark on a little side project. They bought a trailer frame, backed it into Jason's garage, and got to work. Midway through, they asked their wives for input on the interiors, which helped turned their tiny house into a cozy, modern home.
Newsletter
Join the Tiny Homes Mailing List
Get carefully curated content filled with inspiring homes from around the world, innovative new products, and the best in modern design
"We ended up going with a high-end, craftsman design style which was the first of its kind in the tiny home world," says Jason. "The photos we shared across blogs, magazines, Pinterest, and local and national news spread like wildfire. We were caught off-guard with all the attention, and it made us realize that we had created something that many people need and want. So we decided to set up Tiny Heirloom, a company with a mission to provide purposefully designed, high quality, tiny homes," says Jason.
Though the company was officially incorporated in May 2014, the crew agrees that Tiny Heirloom was, in fact, born in in February 2014, when a week-long snow storm brought Jason and his wife Brianna, Zach and his wife Hannah, and Tyson and his wife Michelle (Jason's and Zach's sister) together in Tyson's old house outside of Portland. Shut in because of the bad weather, they enjoyed hot cocoa and home-baked cookies, and had their very first Tiny Heirloom brainstorming session. To date, Tiny Heirloom has built 60 fully customized tiny homes, and are currently working on another eight. They've also recently launched their Signature Series models, which they are very excited to share with the world.
Since they launched their company, the crew have used lessons learned from past projects to improve their process. "Efficient use of space is probably the biggest area we've been improving on," says Zach. "When attempting to fit all the functions, features, and necessities of a 2,000-square-foot home into 200 square feet, you have to get really creative," he says.

Client service and communication is another aspect that has improved as the company matured. Explains Jason, "Building a standard-size, fully custom home takes a lot of moving parts, attention to detail, and great communication. Try doing it all, but with a fraction of the square footage, double the number of regulations, and in a quarter of the standard construction time for a regular house, and you're left with a recipe for disaster."
Thankfully, they've developed systems and processes to capture their clients' vision, needs, and wants without bogging the clients down with too many decisions. "We've honed in on the pain points for our clients over the last four years, and have optimized our design and build process to be really enjoyable and effective," says Tyson.
Have a look at these eight spectacular little homes that they've built.
1. Breezeway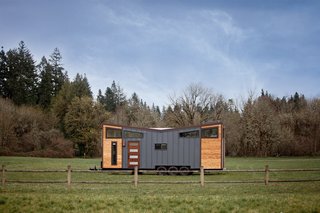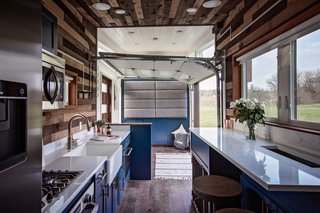 2. Artist's Retreat
3. Home of Zen
4. Rocky Mountain Home
5. Modern Mountain House
6. Tiny Home Big Kitchen
7. Rustic Farmhouse
8. Tiny Adventure Home