Budget Breakdown: A Portland Couple Design and Build a Compact Home For $222K
An architect and construction engineer couple build a sustainable, 624-square-foot abode for $221,580—here's how the numbers add up.
Small, secondary homes are popping up everywhere in Portland, Oregon—including in the backyard of Scott Mooney and Lauren Shumaker. Dive into the costs of construction, project management, and overhead below, then read on for the full story of the remarkable home.
Newsletter
Join the Tiny Homes Mailing List
Get carefully curated content filled with inspiring homes from around the world, innovative new products, and the best in modern design
Spurred by the city's generous accessory dwelling unit (ADU) incentives and a desire to reduce their environmental footprint, the couple—he an architect and she a construction engineer—designed and built an elegant, 624-square-foot backyard home with sustainability at its core.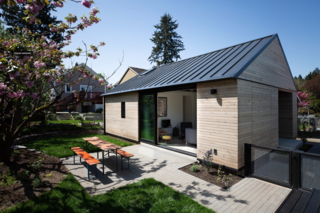 Designed over weekends and spare evenings, Scott and Lauren's "labor of love" came together after eight months of work with help from builders Kevin Smith and Taylor Thompson of Taylorsmith Sustainable Construction.
The total cost of the custom two-bedroom home came to $221,580 with the design, permitting, and direct construction cost accounting for approximately $172,000 of the total.
Named after its pinwheel-shaped plan, the Pinwheel ADU is framed with FSC-certified timber and clad in local, sustainably sourced Western Red Cedar.
For energy efficiency, ZIP System® R-sheathing was used for continuous exterior insulation and weatherproofing, while large, high-performance glazing lets in an abundance of natural light.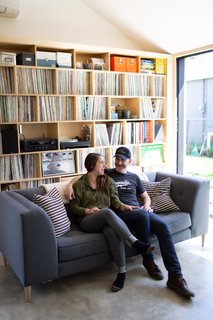 "It was an exercise in how you can do more with less without forfeiting design excellence in the process," explains Scott, who, with his wife and his dog Merle, downsized to live in their recently completed Pinwheel ADU. "We sought a structure that was functionally elegant but beautifully simple, with ample daylight and generous connections to nature and the outdoors."
Key to the design is the couple's creative approach to storage. Instead of building a separate unit to store their outdoor recreation equipment, the dynamic duo installed four "storage blocks" arranged in a pinwheel formation around the building perimeter.
Thanks to their skill set, the couple managed to keep costs relatively low. Scott, who also works as an architect for SRG Partnership, created the drawings and oversaw the construction process, while Lauren's background as a construction engineer allowed her to work closely with Taylorsmith Construction and co-manage budgeting and scheduling tasks.
Shop the Look
"The project also benefited from beginning the construction process in a more accommodating bidding environment that can be found in Portland today," explains Scott.
He continues, "In the time since this project was initially bid in the winter of 2016, the cost of building in the Pacific Northwest has skyrocketed due to the record number of projects that are currently under construction." Scott also notes that had he started the construction process now, the project would have cost more and taken longer to complete.
"We hope the project can serve as a model to help the greater community understand that it is possible to downsize in a realistic way that can actually serve to improve your quality of life," says Scott.
"As an architect, I was also motivated by the challenge of how to make a great design that works within the narrow and often onerous constraints of Portland's ADU guidelines—proving that these small projects do not need to be miniature versions of the larger adjacent home but, instead, can have a unique and meaningful identities that are distinctly their own," says Scott.