The leafy streets of the Pittsburgh neighborhood known as Shadyside are filled with massive, robber baron–era mansions and modest workers' cottages—brick-and-mortar relics of a once-burgeoning steel industry. There are even a few modernist gems, by the likes of Breuer, Meier, and Venturi. What's been absent, until recently, is a domicile that most closely resembles a shipping container.

Not that its owner, Jeff Walz, was looking to be provocative when he purchased the charming, 140-year-old farmhouse—interior sight unseen—that once sat upon the lot. But there was nothing quaint, or remotely salvageable, about the dry rot and mildew that greeted him once he ventured inside.

"I was afraid I'd have to flip it," recalls Walz, who was then director of corporate relations for Carnegie Mellon University and now heads up university relations for Google. "But then I met Harry." He is referring to architect Harry Levine, an amiable bundle of energy endowed with several heads' worth of salt-and-pepper hair, whose home and office are about a block away from each other. In between is a phalanx of bars, restaurants, and cafés—many of them Levine's former projects—which double as informal clubhouses for a coterie of friends who take genuine pleasure in bumping into one another several times a day.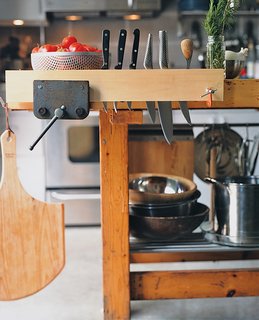 Walz's immediate inspiration was a workshop and snug mezzanine apartment self-built by one of the Shadyside gang from a metal prefab kit for about $50,000. Jazzed up with automotive paint, its green, blue, and yellow exterior appears downright giddy compared to Walz's austere gray shell. "Jeff's a real idea guy," says Levine, clearly delighted with both client and challenge. "He could have built something far less extreme—we could have stick-framed it—but he wanted to be on the edge of something new. And he loved the idea of celebrating steel here in Pittsburgh."

Fueled by equal parts caffeine and alcohol, a sketch on a napkin (entitled "Villa Jeff") was quickly produced and approved. About the same size as the farmhouse (1,200 square feet), the resulting recycled steel–and–glass structure sits directly atop the original fieldstone-and-mortar foundation. Early ideas for softening the façade, such as trellises with climbing vines, did not make the leap to finished product, although 11 silvery birch trees (when fully grown) will provide a natural screen. 

If many of us consider our homes to be a refuge and a repository of personal expression, Walz's ideal is more of a tabula rasa. In discussions with Levine, he used the terms "gallery house" and "salon house"—suggesting a place of temporary installations of people and projects. The primary permanent adornments are light and air. With the industrial garage door rolled up, the two-story space is flooded with both, and crosscurrents preclude the need for air-conditioning except on the most extreme days. In lieu of artwork, windows frame views in three directions, capturing trees, houses, and the stained glass rose window in the old stone church across the street.

Just as construction was getting under way, Walz was being wooed by Bay Area–based Google—with an offer to let him migrate between the two locations. Now that he was no longer available to do much of the work, the budget crept from $150,000 to about $230,000. "It was originally going to be this hippy barn raising," says Levine. But with less time on his hands, even the minimalist Walz found himself susceptible to the seductions of fixtures and finishes. The basic white Home Depot kitchen turned into a tidy arrangement of gleaming stainless appliances, and wood floors morphed into power-troweled concrete—with Levine repurposing the old boiler into a kind of Willy Wonka copper con-traption to fuel the radiant heat.

When in San Francisco toiling for Google, Walz met industrial designer Scott Summit, who happened to be heading to Pittsburgh to teach at Carnegie Mellon for a year and was happy to find a place to lay his head. True to the salon vision, Summit hosted weekly Sunday suppers—multidisciplinary gatherings around the table that sits before the large, uncovered windows. "It was like performance dinner," says Summit, laughingly referring to The Cook, the Thief, His Wife & Her Lover (presumably without the gore). "We'd talk until all hours, with tea candles arranged on the steel stair rails like notes," as the eight built-in Bose speakers bathed the room in sound.

The reaction from the neighborhood has been mostly positive, although one woman marched up to Levine and demanded, "Are you responsible for that godless building?" "From the outside, I know my house can be a little startling," says Walz, who plans to spend the next few months pottering around it. "But it makes me happy. During the day, you feel like you're outdoors. And at night, it glows like a big glass lantern. It's quite beautiful."