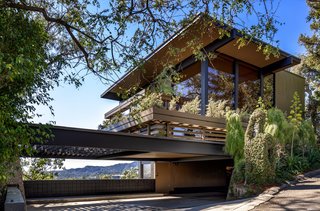 Photographer Todd Selby's Midcentury Pad Lands on the Market for a Cool $3.4M
The Raúl Garduno–designed Franks House comes with a cascading waterfall and a koi pond.
"We saw photos of the home online, and immediately fell in love with the property," explains Todd Selby, the photographer and author behind the acclaimed blog The Selby. Not only was the Franks House an idyllic setting for saying "I do" to his now-wife, Danielle Sherman, but it has also been the couple's primary residence for the past six years.
A celebrated work of Los Angeles architecture, the Franks House was designed by Raúl Garduno while he worked in the office of William Krisel in the late 1960s. Spread over three levels, the midcentury residence spans 2,506 square feet, with two bedrooms, two and a half baths, and several spacious living areas wrapped in glass. The well-maintained home retains a trove of original details—including cork and redwood paneling throughout.
A koi ponds lies along the serene, Zen-like path to the front door, hinting at the calming aesthetic within. Tall ceilings rise even higher in the living, cooking, and dining area, while an expansive, wraparound deck allows each space to flow outside.
"The house was designed to have parties," notes Danielle in a Vogue article highlighting the couple's wedding at the property. "There have probably been many more rambunctious nights than our wedding in this house."

The master suite features a fireplace, a walk-in closet, a private outdoor patio, and a spa-like connected bathroom with a Jacuzzi tub and sauna. Scroll ahead to see more of the property, currently listed for $3,400,000.
Get the Real Estate Newsletter
From midcentury classics to the best contemporary spaces for sale, see the latest listings for modern homes on the market around the world.