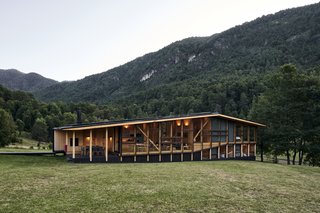 A Cantilevered Home in Southern Chile Takes Design Cues From Lake, Trees, and Sky
In designing a family retreat in Araucanía, Aguilo + Pedraza Architects uses form and materiality to weave the home into its wondrous surroundings.
"It's as if the house is part of the natural scenery," says Roberto Del Fierro, describing the new home in Araucanía, Chile, that he shares with his wife, María Elena, and their three sons, Tomás, Cristóbal, and Benjamín. "When we're inside," he says, "it feels like we're out in the landscape."
Join Dwell+ to Continue
Subscribe to Dwell+ to get everything you already love about Dwell, plus exclusive home tours, video features, how-to guides, access to the Dwell archive, and more.