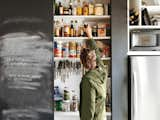 Here's What You 100% Need in Your Pantry According to Bobby Berk
'Queer Eye' star Bobby Berk names the pantry essentials and tools that build healthy eating habits.
Celebrity designer Bobby Berk of Queer Eye fame has just launched a new blog encompassing design, lifestyle, health and wellness, and shopping. In an inaugural post on pantry essentials, Berk outlines his kitchen must-haves, favorite spices, and go-to sauces, explaining, "As much as I try to plan my meals and be prepared, sometimes life gets in the way. When that happens I have two choices, splurge on Postmates (rarely on something healthy) or throw something together with whatever I have in my pantry."
Keep scrolling to see the accessories Berk deems indispensable for the kitchen and pantry, and then head to his post to read the rest.
Fill up on the Latest in Kitchen Design
Discover inspired kitchens and get design advice for the heart of your home.