View Photos
These Nordic A-Frame Cabins Offer Thrilling Treetop Views
Inspired by Nordic folklore and fire towers that dot the surrounding forests, PAN Treetop Cabins by architect Espen Surnevik make for a fairy-tale holiday.
In the 16th century, immigrants from Finland settled in the forests of Finnskogen in Eastern Norway, creating a rich, pan-Nordic culture full of myth and folklore. Now, visitors can experience the region's magic while staying in the PAN Treetop Cabins, two A-frame structures at 431-square-feet each, created by architect Espen Surnevik.
Newsletter
Join the Daily Dose Newsletter
Get carefully curated content filled with inspiring homes from around the world, innovative new products, and the best in modern design
Owned by Kristian Rostad and Christine Mowinckel, the cabins perch 26 feet above the ground on steel poles sunk 20 feet deep into the bedrock below, providing stability when strong winds blow. Surenvik, who is also a professor at The Oslo School of Architecture, took inspiration from the region, and specifically from the comic strip by Finnish artist Tove Jansson featuring fairy-tale characters called the Moomins.
"Jansson's texts and drawings define a whole mythology created around the Nordic view on nature and the Finnish forests," says Surnevik. "For me, it represents a genuine feeling of how the Nordic individual relates to the long distances between settlements in rural Scandinavia, the loneliness, the dark winters, and the cold climate."

His second source of inspiration, apparent in the design of a spiral staircase that leads up to the cabin, is the fire lookout tower, which Surnevik says is a part of the landscape in the forest belt that surrounds the northern hemisphere. "These fire towers are built to overlook the huge forests in search of smoke and fire in the dry seasons," he says.
The treetop cabins also reference the American, A-frame lodge. "I was in search of structural form for the cabins. Something that was not just freestanding and good-looking, but with a volumetry that had primal clarity and constructive significance," says Surnevik, who choose the A-frame because "it is both intimate in its width and monumental in its height, and represented something basic with its triangular shape."
Each cabin has interiors that are 28 feet long, 18 feet high, and 12 feet wide, and can comfortably accommodate up to six people.
The program includes a mezzanine with a double bed, additional sleeping areas that are concealed within the interior walls, a small kitchenette and fireplace, and a bathroom with a toilet and shower.
Shop the Look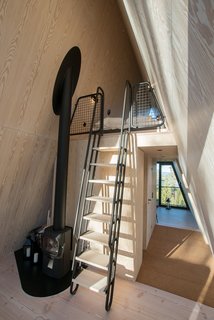 "My vision was to create something that would easily settle into the landscape without making a big change in the surrounding nature. The forest itself has been the biggest source of inspiration, but also the North American A-lodges, modern power line constructions, and the houses of the Moomin characters," says Surnevik.